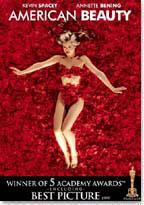 Lester Burnham (Kevin Spacey) is a middle-aged magazine writer who hates his job. His wife, Carolyn (Annette Bening), is a real-estate broker. Their sixteen-year-old daughter, Jane (Thora Birch), has low self-esteem and despises her parents. The Burnhams' new neighbors are retired United States Marine Corps Colonel Frank Fitts (Chris Cooper), his wife, Barbara (Allison Janney), and their teenage son, Ricky (Wes Bentley).
Ricky is a secret marijuana dealer whom the colonel subjects to a strict disciplinarian lifestyle. Ricky, who had been previously forced into a military academy and a mental hospital, spends time getting high and recording his surroundings with a camcorder.
Lester becomes infatuated with Jane's cheerleader friend, Angela Hayes (Mena Suvari) after seeing her perform a half-time dance routine at a high school basketball game. He begins to have sexual fantasies about Angela. About the same time, Carolyn begins an affair with her business rival, Buddy Kane (Peter Gallagher). As Lester is about to be laid off his job, he blackmails his boss for $60,000 and quits.
He gets a job serving fast food and buys his dream car, a 1970 Pontiac Firebird. He begins working out after he overhears Angela telling Jane that she would find him sexually attractive if he improved his physique. Lester begins smoking marijuana purchased from Ricky and flirts with Angela whenever she visits Jane. Meanwhile, Jane becomes involved with Ricky.
Lester's mental coma is rudely interrupted when he meets his daughter's friend and starts fantasizing about her. The awakening might be due to a disturbing thought or feeling, but the wake-up call changes Lester and allows him to realize that there's always time to erase his "forced-image" and be the person he really is. This is all a set-up for a funny, disturbing and tragic movie.
Director: Sam Mendes
Year of Release: 1999

Character to watch: Kevin Spacey as Lester Burnham.
Journal your answers to the following questions after you watch the movie.
How does this particular character's journey compare with yours?
Did the character develop certain characteristics during the movie that you have or that you would like to have? If so, what are those characteristics?
What obstacles did this character face? What was his or her biggest challenge?
What would you have done differently if you had been in the same position as the character?
Is this character the type of person you would be friends with? Why or why not?