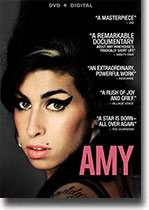 From BAFTA award–winning director Asif Kapadia (SENNA), AMY is the incredible story of six–time Grammy(R) award winner Amy Winehouse – in her own words. Featuring extensive never-before-seen archival footage and previously unheard tracks, this strikingly modern, moving, and vital film shines a light on the world we live in, in a way that very few can.
It has been some time since the passing of the enigmatic Amy Winehouse who had been the subject of much praise for her unique jazz stylings and voice while also being the subject of many jokes, and the derision she endured while struggling with her personal substance abuse and relationships.
This documentary is one of the very best of the many bio documentaries that have come out in the past decade. Using a great deal of home footage stemming from her childhood right up until the very end of her life, 'Amy' clearly depicts her at her very best, and her very worst, during a tumultuous downward spiral spurred on, not just by the bulimia, alcohol and drugs, but by those closest to her, especially her husband, her producer/manager and, in many ways, most of all, her father to whom she looked most towards for support, guidance and love.
It is clear in this excellent documentary that her own father was completely apathetic regarding her struggles and only sort to promote himself in the public eye, while, at the same time, her husband used her to keep himself in a wealthy lifestyle while sabotaging any effort to get Amy Winehouse clean and sober.
This film can be greatly disturbing to see as the abuse by others and Amy's own depressive spiral is as plain as day as shown in the many , many snippets of filming that was done both with and without her knowledge. There are no staged scenes, no prepared dialogue, nothing that comes off as being faked which aligns itself with Amy's desire never to have faked instrumentation on any of her songs. The conclusion to all this is that Amy was a jazz artist and never was meant to be the star that she became. That star was what put the pressure on her that she neither wanted nor could handle.
Director: Asif Kapadia
Year of Release: 2015

Character to watch: Amy Winehouse as herself.
Journal your answers to the following questions after you watch the movie.
How does this particular character's journey compare with yours?
Did the character develop certain characteristics during the movie that you have or that you would like to have? If so, what are those characteristics?
What obstacles did this character face? What was his or her biggest challenge?
What would you have done differently if you had been in the same position as the character?
Is this character the type of person you would be friends with? Why or why not?