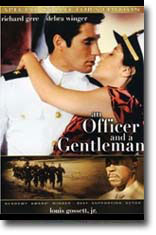 An Officer and A Gentleman is a timeless tale of romance, friendship and growth. Loner Zack Mayo (Richard Gere) enters Officer Candidate School to become a Navy pilot and in thirteen tortuous weeks he learns the importance of discipline, love and friendship.
Louis Gossett, Jr. won an Academy Award for his brilliant portrayal of the tough drill instructor Sgt. Emil Foley who teaches Zack that no man can make it alone.
Gossett tries to warn the young officer about the local girls who will do anything to catch themselves pilot husbands, Mayo eventually learns to love one of the girls, Paula Pokrifki (Debra Winger) while his fellow candidate, Sid Worley (David Keith), struggles with a very different fate. An Officer And A Gentleman is a rich and satisfying story with moving performances that will stay with you long after the film has ended.
Mayo is a loner who has never had to rely on anyone but himself. As a child, he was sent to live with his father, a career Navy man based in the Philippines, after his mother commits suicide. There he soon realized that he had to be tough and rely on no one. After graduating from college, he shocks his father by telling that he has enlisted in the Navy and will enter training as a naval aviator.
There he brings the same loner attitude he has had all of his life. He does however meet Pokrifki, an attractive young woman who often attends base functions in the hope of nabbing a young officer and Worley, a classmate with whom he forms a close bond. The training is difficult but not as tough as having to deal with Foley who teaches Zack a lesson in the importance of relying on your friends and colleagues.
Director: Taylor Hackford
Year of Release: 1982

Character to watch: Richard Gere as Zack Mayo.
Journal your answers to the following questions after you watch the movie.
How does this particular character's journey compare with yours?
Did the character develop certain characteristics during the movie that you have or that you would like to have? If so, what are those characteristics?
What obstacles did this character face? What was his or her biggest challenge?
What would you have done differently if you had been in the same position as the character?
Is this character the type of person you would be friends with? Why or why not?