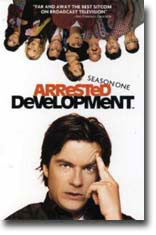 Winner of the Outstanding Comedy Series Emmy its first year out, Arrested Development is the kind of sitcom that gives you hope for television. A mockumentary-style exploration of the beleaguered Bluth family, it's one of those idiosyncratic shows that doesn't rely on a laugh track or a studio audience; it's shot more like a TV drama, albeit with an omniscient narrator (executive producer Ron Howard) overseeing the proceedings.Holding the Bluths together just barely is son Michael Bluth (Jason Bateman), the only normal guy in a family that's chock full of nuts. Hardworking and sensible, Michael's certain he's going to be given control of his family's Enron-style corporation upon the retirement of his father (Jeffrey Tambor).
The fact that he's passed over instead for his mother (Jessica Walter) is only a blip when compared to his father's immediate arrest for dubious accounting practices, and the resulting freeze on the family's previously limitless wealth. Bereft of money, and even less family love, the Bluths have to band together in their moment of need–not easy when everyone's looking out for number 1.
In addition to his scabrous parents, Michael has to contend with his lothario older brother (Will Arnett), his basically useless younger brother (Tony Hale), his greedy twin sister (Portia DeRossi), and her sexually ambiguous husband (David Cross).
Michael's only comrade in sanity is his son George Michael (Michael Cera), but then again, the teenage boy harbors a secret crush on his cousin (Alia Shawkat). A peerless ensemble led by the brilliant Bateman (who ever knew he could be this good?), all the actors are pitch-perfect in their roles, delivering the dryly funny, sometimes absurdist dialogue with the speed and flair of classic farce. The unusual tone of Arrested Development takes a bit of getting used to–it's far different from anything you'll see on TV, even HBO–but once you buy in to the Bluths' innumerable dysfunctions, you'll be laughing your head off for hours.

Character to watch: Jason Bateman as Michael Bluth.
Journal your answers to the following questions after you watch the series.
How does this particular character's journey compare with yours?
Did the character develop certain characteristics during the movie that you have or that you would like to have? If so, what are those characteristics?
What obstacles did this character face? What was his or her biggest challenge?
What would you have done differently if you had been in the same position as the character?
Is this character the type of person you would be friends with? Why or why not?