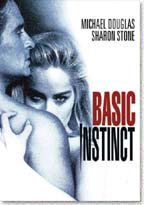 When rock star Johnny Boz (Bill Cable) is viciously stabbed to death with an ice pick during sex by a mysterious blonde woman, homicide detective Nick Curran (Michael Douglas) is sent to investigate.
The only suspect is Catherine Tramell (Sharon Stone), a crime novelist who was the last person to be seen with Boz on the night he died. Nick and his partner, Gus Moran (George Dzundza), visit her Pacific Heights mansion, but they find only Catherine's lesbian lover, Roxy (Leilani Sarelle), who sends them to Catherine's Stinson Beach house.
When they ask Catherine about her relationship with Boz, she shows little emotion at hearing he is dead. Nick and Gus, along with their superiors, discover that Catherine has written a novel about a former rock star who was killed in the same way as Boz (stabbed in bed with an ice pick, hands tied together with a silk scarf).
During questioning by detectives, including Nick, at police headquarters, Catherine engages in provocative behavior, refuses to extinguish her cigarette, and re-crosses her legs — her short skirt revealing that she is not wearing underwear. This has since become the classic exhibitionism scene.
Nick, who accidentally shot two tourists while high on cocaine, attends counseling sessions with police psychologist Dr. Beth Garner (Jeanne Tripplehorn), with whom he has had an affair. Nick goes to a bar with co-workers after the interrogation and is taunted by Lieutenant Marty Nilsen (Daniel von Bargen), an internal affairs investigator bent on making life difficult for Nick.
Director: Paul Verhoeven
Year of Release: 1992

Character to watch: Michael Douglas as Nick Curran.
Journal your answers to the following questions after you watch the movie.
How does this particular character's journey compare with yours?
Did the character develop certain characteristics during the movie that you have or that you would like to have? If so, what are those characteristics?
What obstacles did this character face? What was his or her biggest challenge?
What would you have done differently if you had been in the same position as the character?
Is this character the type of person you would be friends with? Why or why not?