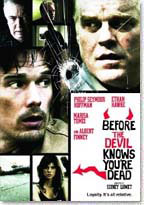 Andy Hanson (Philip Seymour Hoffman) is a finance executive at a real estate firm in New York City. Facing an upcoming audit he knows will reveal his having embezzled from his employer (in support of a drug habit), Andy decides to escape to Brazil, believing there to exist no extradition treaty between Brazil and the United States.To raise the necessary funds for the trip and to establish himself once there, he hatches a scheme and enlists the aid of his brother, Hank (Ethan Hawke), himself in need of money to pay three months' back child support as well as his daughter's private school tuition.
Hank, meanwhile, has been having a long-standing affair with Andy's wife, Gina (Marisa Tomei), who has been unsatisfied with her marriage. Of the two brothers, Hank is well-meaning, but weak-willed and cowardly, easily dominated by his stronger-willed older brother, Andy, a ruthless schemer. Andy in turn harbors great resentment that his younger and more attractive brother received more love and affection from his parents than he did during childhood.
At the age of 83, director Sidney Lumet proves he still has plenty of juice. And once again, Philip Seymour Hoffman proves he is one of the finest American actors working today. This powerful one-two punch nails this movie into your head; and that's further guaranteed by, a) great acting by the rest of the cast, including Ethan Hawke, Marisa Tomei and, in a bravura performance, Albert Finney, and b) a shockingly dark portrait of a family so dysfunctional it almost makes the Texas Chainsaw Massacre folks look tame. Well, almost.
Two brothers, played by Hawke and Hoffman, work in the same real estate company, but are hugely different. Hoffman's the bigshot; Hawke's not. Hawke's divorced; Hoffman's married to Tomei and the opening graphic scene shows just how married the two of them are. Hoffman's got problems and so does Hawke, but they're different problems, although both have their root in money.
Director: Sidney Lumet
Year of Release: 2007

Character to watch: Philip Seymour Hoffman as Andy Hanson.
Journal your answers to the following questions after you watch the movie.
How does this particular character's journey compare with yours?
Did the character develop certain characteristics during the movie that you have or that you would like to have? If so, what are those characteristics?
What obstacles did this character face? What was his or her biggest challenge?
What would you have done differently if you had been in the same position as the character?
Is this character the type of person you would be friends with? Why or why not?