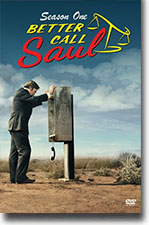 This spin-off from the series Breaking Bad (created by that show's Vince Gilligan and Peter Gould) is set mostly six years earlier and focuses on Albuquerque lawyer Saul Goodman (Bob Odenkirk). Jonathan Banks also reprises his role as Mike Ehrmantraut, while newcomers include Michael McKean. It's much more of a drama (with some comedic elements) than originally suggested.
As a down-on-his-luck lawyer, Saul doesn't have much chance of getting anywhere near a silk purse. This is not the Saul Goodman we know from Breaking Bad — though you get a glimpse of him in a black-and-white introduction that shows once again how talented writers, actors and directors can create intense suspense out of the most ordinary of everyday activities.
From there we jump to the colorful past where Saul is still Jimmy McGill and just scraping by, taking any public-defender job he can get and battling with a parking-lot attendant Bad fans will recognize. But don't worry if Mike means nothing to you: One of the smart choices Gilligan and Gould have made is to keep the Breaking Bad foreshadowings to an entertaining minimum. Those who spot them will enjoy them; those who don't won't feel left out.
It's less brooding than its progenitor, less emotionally wrenching (at least at first), and its references to the Breaking Bad mythology could ultimately become tiresome. But it's also entertaining and smart and, like its piteous semi-hero, persuasive.
All-on-all, Odenkirk is a gifted comic actor, and the sadness in his eyes hints that he can fill in more dimensions to Jimmy McGill as time goes on. But the first two episodes of Better Call Saul take their own sweet time setting things up.

Character to watch: Bob Odenkirk as Saul Goodman.
Journal your answers to the following questions after you watch the series.
How does this particular character's journey compare with yours?
Did the character develop certain characteristics during the movie that you have or that you would like to have? If so, what are those characteristics?
What obstacles did this character face? What was his or her biggest challenge?
What would you have done differently if you had been in the same position as the character?
Is this character the type of person you would be friends with? Why or why not?