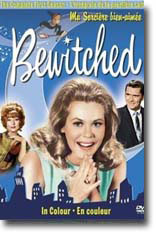 The first, and perhaps most magical, season of Bewitched still casts an enchanting spell. For escapist fantasy, this series, no doubt inspired by the play Bell, Book and Candle, broke significant television ground.The Stephens were sitcoms' first mixed marriage. Advertising executive Darrin Stephens (Dick York) was mortal, and wife Samantha (Elizabeth Montgomery) was a witch.
According to a retrospective segment included on this four-disc set, the Stephenses were also the first couple to sleep in one bed! And Samantha's mother, Endora (the venerable Agnes Morehead), and father, Maurice (Maurice Evans, most popularly known as Dr. Zaius in the original Planet of the Apes, were TV's first separated couple.
Surely, Darrin did for advertising what Dick Van Dyke's Rob Petrie did for comedy writing. And nose-twitching Samantha certainly gave Mary Tyler Moore's Laura Petrie a run for the money in the sexy suburbanite sweepstakes.
This high-concept series' saving grace was that Darrin insisted that Samantha not engage in any "hocus-pocus." But in this first season, she would be compelled to use her extraordinary powers to right social wrongs (such as derogatory-witch stereotypes in the Halloween episode "The Witches Are Out"), champion the underdog (a lonely boy whose overprotective mother won't let him play baseball in "Little Pitchers Have Big Fears"), or to restore a troubled boy's Christmas spirit ("A Vision of Sugar Plums"). Or, she might just want to turn the tables on an insulting former girlfriend of Darrin's (the pilot, "Darrin, Take This Witch, Samantha"). York and Montgomery had palpable chemistry.
They also received able support by a stellar ensemble of character actors. Alice Pearce and Marion Lorne would earn Emmys for their signature roles as busybody neighbor Mrs. Kravitz and dotty Aunt Clara, respectively.
George Tobias portrayed oblivious. long-suffering Abner Kravitz, with David White as Darrin's boss, Larry Tate. In today's more PC climate, Bewitched may offend the "ban Harry Potter" crowd. But for baby boomers especially, this inaugural set will happily conjure up vintage television memories.

Character to watch: Elizabeth Montgomery as Samantha.
Journal your answers to the following questions after you watch the series.
How does this particular character's journey compare with yours?
Did the character develop certain characteristics during the movie that you have or that you would like to have? If so, what are those characteristics?
What obstacles did this character face? What was his or her biest challenge?
What would you have done differently if you had been in the same position as the character?
Is this character the type of person you would be friends with? Why or why not?