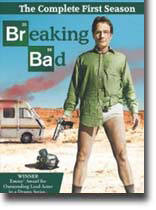 No one would confuse the desperate dad Bryan Cranston plays in this character-driven drama with the fun-loving Hal from Malcolm in the Middle. In AMC's Breaking Bad, Walter White lives in the suburbs with his wife, but the similarities end there.
During the pilot, the cash-strapped chemistry teacher finds out he has inoperable lung cancer. He and his wife Skyler Anna Gunn) have one son, Walter Jr. (R.J. Mitte), and a daughter on the way. With two years to get his affairs in order, Walter comes up with a wild plan: he and former student Jesse (Aaron Paul), a drug dealer, will open a meth lab.
In the hands of creator Vince Gilligan, Bad's first season plays like the improbable offspring of Weeds and The Shield. With nothing left to lose, the Albuquerque 50-year-old uses his death sentence as a catalyst to break every rule he's ever followed while keeping his family, including Skyler's radiologist sister, Marie (Betsy Brandt), and her DEA agent husband, Hank (Dean Norris)–out of the loop.
Throughout these seven episodes, Walt takes on a hostage, a dead body, and a partner who likes to sample his own product. Based on the description alone, the program shouldn't work as well as it does, except Gilligan and company keep the situations psychologically believable and Emmy winner Cranston makes Walt surprisingly sympathetic as he swings between compassion and self-interest.
As he tells his students, "Chemistry is the study of change," a statement that applies equally well to the show, since Walt ends up in a very different place than the one he began. This three-disc set comes complete with cast and crew commentary, an installment of AMC's Shootout, two featurettes, deleted scenes, and screen tests.
I don't want to tell you much about the seasons events as it is quite short and risks spoiling certain events. I have to tell you that there are times in which this show doesn't hold back. It has no qualms about showing you the brutality of a broken man fighting against his own sense of morality, joining the drug world and even dealing with the fact that he killed a guy. Oh and obviously he's dying and is reminded of that from time to time but it's certainly gelled together brilliantly.

Character to watch: Bryan Cranston as Walter White.
Journal your answers to the following questions after you watch the series.
How does this particular character's journey compare with yours?
Did the character develop certain characteristics during the movie that you have or that you would like to have? If so, what are those characteristics?
What obstacles did this character face? What was his or her biggest challenge?
What would you have done differently if you had been in the same position as the character?
Is this character the type of person you would be friends with? Why or why not?