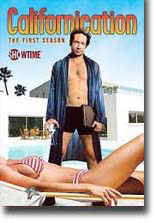 David Duchovny was born to play Hank Moody, a sly, sarcastic, self-loathing, and–despite all the meaningless sex, booze, and fist fights–kind character. Writer Moody hates the Los Angeles world he lives in; a world that turned his sharp best-seller into a cheesy date movie, where his young daughter and should-have-been wife (Natascha McElhone) are slipping away into the hands of a rich play-it-safe guy, and where everything he truly wants seems just out of his reach. But the man hasn't lost all hope. "Happy endings may get a bad rap, but they do happen," he assures his daughter. "And when they do, they're just as true as the unhappy ones."
You can't help but hope Hank finds his happy ending, because it's with his family that his soft side surfaces. Hank takes no shame in trying to woo back his "wife" Karen, even if it is in front of her new fiancé. He knows he's meant to be with her–plain and simple–and there's a glint in her eye that always makes you wonder if she's really thinking the same thing.
His daughter Becca (Madeleine Martin)is so sweet that any guy would melt against this guitar-wielding cutie, but Hank really captures the "I'll kick a lot of ass for my daughter" mentality that so many dads harbor. He's also fully prepared to drop a gorgeous woman at a moment's notice to heed his daughter's call.
The rest of the cast, including Evan Handler and Pamela Adlon, provide some surprisingly interesting and hilarious side stories. Just when it seems situations in this show can't get any more ludicrous or disgusting, they most certainly do. That's the beauty of it. Californication is a dark, coarse, edgy adult comedy. It's also very real, and quite intelligent.
The show is definitely for an adult audience, and though it can offend some and be quite irreverant most of the time, it is so well written and such fun that it almost doesn't matter. Add to all this some edgy musical tracks from greats like The Rolling Stones and The Foo Fighters, and you have a divine adult drama/comedy series.

Character to watch: David Duchovny as Hank Moody.
Journal your answers to the following questions after you watch the series.
How does this particular character's journey compare with yours?
Did the character develop certain characteristics during the movie that you have or that you would like to have? If so, what are those characteristics?
What obstacles did this character face? What was his or her biggest challenge?
What would you have done differently if you had been in the same position as the character?
Is this character the type of person you would be friends with? Why or why not?