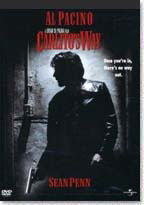 In 1975, after serving 5 years of a 30 year prison sentence, Carlito Brigante (Al Pacino) is freed on a legal technicality exploited by his close friend and lawyer, Dave Kleinfeld (Sean Penn). Carlito vows to be through with his criminal activities but is persuaded to accompany his young cousin Guajiro (John Ortiz) to a drug deal held at a bar. Guajiro is betrayed and killed by his suppliers and Carlito is forced to shoot his way out.
Afterwards, Carlito takes Guajiro's $30,000 from the botched deal and uses it to buy into a nightclub owned by a gambling addict named Saso (Jorge Porcel) with the intent on saving $75,000 to retire to the Caribbean.
As nightclub co-owner, Carlito declines several offers for a business partnership with an ambitious, albeit obnoxious, young gangster from the Bronx named Benny Blanco (John Leguizamo). Carlito also rekindles his romance with his former girlfriend Gail (Penelope Ann Miller), a ballet dancer who moonlights as a stripper. Kleinfeld develops a love interest with Benny's girlfriend, Steffie, a waitress at Carlito's nightclub. Benny's frustration with Carlito's constant rejections boils over and he confronts Carlito one night at his table.
Carlito publicly humiliates Benny, who reacts by manhandling Steffie. Fueled by his now extensive use of alcohol and cocaine, Kleinfeld brazenly pulls out a gun and threatens to kill Benny, but Carlito intervenes. Despite being personally threatened by Benny himself, Carlito lets Benny go unharmed; a decision which alienates Carlito's gangster friend and personal bodyguard Pachanga (Luis Guzmán).
Kleinfeld, who stole one million dollars in payoff money from his Italian mob-boss client, Anthony "Tony T" Taglialucci, is coerced into providing his yacht to help Tony T break out of the Rikers Island prison barge. Kleinfeld begs for Carlito's assistance in the prison break, and Carlito reluctantly agrees.
Under cover of night, Carlito, Kleinfeld, and Tony T's son, Frankie, sail to a floating buoy outside of the prison barge where Tony T is waiting. As they pull Tony T aboard, Kleinfeld unexpectedly bludgeons him to death then slits Frankie's throat and dumps both of their bodies in the East River. Carlito immediately severs his ties with Kleinfeld and decides to leave town with Gail. The next day, Kleinfeld barely survives a retaliatory assassination attempt when he's stabbed in the chest at his office by two mobsters.
Director: Brian De Palma
Year of Release: 1993

Character to watch: Sean Penn as David Kleinfeld.
Journal your answers to the following questions after you watch the movie.
How does this particular character's journey compare with yours?
Did the character develop certain characteristics during the movie that you have or that you would like to have? If so, what are those characteristics?
What obstacles did this character face? What was his or her biggest challenge?
What would you have done differently if you had been in the same position as the character?
Is this character the type of person you would be friends with? Why or why not?