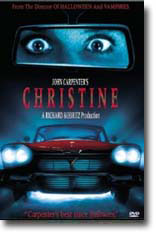 Stephen King's novel about the twisted love affair between a boy and his car gets transferred to the screen, courtesy of suspense master John Carpenter. Although lacking some of the more outré supernatural elements of the source material, this high-octane cinematic tune-up more than delivers the goods, horror-wise. christine's midnight rampages will never be forgotten.
As well as being a sly exposé of the random cruelties within the high-school pecking order, Keith Gordon gives a wonderfully controlled central performance. Carpenter's atmospheric original score is backed up by a well-chosen collection of rock classics, including George Thorogood's "Bad to the Bone" (the titular character's all-too-apt theme song).
Christine is about possession. In adapting Steven King's novel to the screen, director John Carpenter and writer Bill Phillips streamline King's narrative to focus on the true star of the book and film–the car itself. Christine tells the story about a nerdy high school senior (Gordon) who can't do anything right but his best friend college jock Dennis (John Stockwell) seems to do everything right.
When Arnie finds the perfect car that he can rebuild and put his love into, the car nicknamed "Christine" by its former deceased owner more than returns that love–she gives Arnie a thug makeover and turns him into a monster as bad as the the kids that used to beat Arnie up. Needless to say, Christine has some special abilities of her own and she becomes–so to speak–the vehicle for Archie's revenge and vice versa.
Director: John Carpenter
Year of Release: 1982

Character to watch: Keith Gordon as Arnie Cunningham.
Journal your answers to the following questions after you watch the movie.
How does this particular character's journey compare with yours?
Did the character develop certain characteristics during the movie that you have or that you would like to have? If so, what are those characteristics?
What obstacles did this character face? What was his or her biggest challenge?
What would you have done differently if you had been in the same position as the character?
Is this character the type of person you would be friends with? Why or why not?