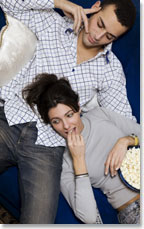 As you probably know from reading this blog, Cinema Therapy is the use of watching movies to help people deal with personal concerns, relationship problems, and other issues. In marriage counseling, Cinema Therapy is a practical way to help couples to look at certain aspects of their relationship.
For couples, movies can be used for entertainment, alone time, and self-help. Many couples enjoy watching movies together and then discussing their reactions to the characters in the films. Of course, movies can help get a couple in a romantic mood as well.
Movies can help couples get in touch with their feelings and thoughts about their marital problems so they can more effectively cope with those problems. This can be particularly useful when done in conjunction with marriage counseling. Often, watching a movie together and then discussing it can help a couple address problems in their marriage.
Some of the common issues that couples commonly deal with pertain to communication, intimacy, finances, and family, such as a new child or in-law problems. The following are some movies that address these issues and are great to discuss in marriage counseling sessions.
The In-Laws (1979)
Director: Arthur Hiller
In preparation for his daughter's wedding, dentist Sheldon Kornpett meets Vince Ricardo, the groom's father. Vince, a manic fellow who claims to be a government agent, then proceeds to drag Sheldon into a series of chases and misadventures from New York to Central America.
Character to watch: Alan Arkin as Sheldon Kornpett.
Click here to order this movie at Amazon.
Meet the Parents (2000)
Director: Jay Roach
Male nurse Greg Focker meets his girlfriend's parents before proposing, but her suspicious father is every date's worst nightmare.
Character to watch: Ben Stiller as Gaylord 'Greg' Focker.
Click here to order this movie at Amazon.
The Birdcage (1996)
Director: Mike Nichols
A gay cabaret owner and his drag queen companion agree to put up a false straight front so that their son can introduce them to his fiancée's right-wing moralistic parents.
Character to watch: Nathan Lane as Albert Goldman.