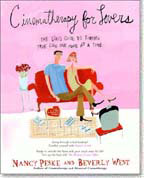 If you've ever wondered how to meet Mr. Right, boot Mr. Wrong, inspire Mr. Reluctant to propose, or ignite youthful passion in a middle-aged romance, then we've got some good news for you. The help you need is no farther away than your remote control.
Sink into your sofa and discover the healing power of movies. From the bestselling duo who brought you Cinematherapy, Advanced Cinematherapy, and Bibliotherapy comes Cinematherapy for Lovers, a video guide guaranteed to help you find the perfect movie prescription to cure all your relationship woes.
Trouble in your couple's paradise? Watch a Rediscovering Your Dream movie like Pollock and rise above. Looking for the key to your guy's psyche? Crack the code with an Understanding Your Man movie like Austin Powers: The Spy Who Shagged Me and unlock the secrets of your own international man of mystery.
Ready to hear those magic words but your summer lover is terminally tongue-tied? Loosen his lips with a Hook, Line, and Sinker movie like All That Heaven Allows, then find the shortcut to his heart through his stomach with Bev's Culinarytherapy recipe for meat loaf and mashed potatoes just like Mom used to make, and seal the deal.
Feeling like a solo singer in a world full of duets? Discover a new happily-ever-after with a Make Your Own Music movie like Ghost World. Jam-packed with over 150 new reviews of classic and contemporary movies–and warnings about Happily Never After love stories that are recipes for relationship disasters–Cinematherapy for Lovers: The Girl's Guide to Finding True Love One Movie at a Time gives you the tools you'll need to become your own couple's cinematherapist.
PLUS: Nancy's Momentous Minutiae, Best Bodice-Ripping Lines, I Do I Do and Elvis Too, Always a Bridesmaid Never a Bride movies, Bods We Don't Buy, the Shirley MacLaine Trilogy of Terror, Bev's Culinarytherapy, and much, much more.
About the Authors: Nancy Peske and Beverly West arefilm fanatics, best friends, identical cousins, and the coauthors of Bibliotherapy: The Girl's Guide to Books for Every Phase of Our Lives, Meditations for Men Who Do Next to Nothing (and Would Like to Do Even Less); How to Satisfy a Woman Every Time on Five Dollars a Day; and Frankly Scarlett, I Do Give a Damn! Classic Romances Retold. They live in New York City, where they spend much of their time debating such sophistocated cinematic polemics as the merits of Gary Oldman's ripe Camembert excess as opposed to Alan Rickman's quarter-pounder stoicism, and the far-reaching cultural implications of Brad Pitt's haircut.
Authors: Nancy Peske, Beverly West
Year of Release: 2003