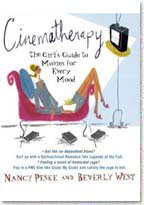 What can take the edge off a bad day at the office better than a movie where the boss gets his (9-5)? And, of course, that close-up of Antonio Banderas, wet and naked in a cage, is the best cure for the break-up blahs known to modern science (Never Talk to Strangers).
Now, for the first time, Cinematherapy acknowledges what women have known for years, and provides a sage guide to the best movie medicine currently available for whatever ails you, whether it's a sudden hormonal shift, a bad-hair day, or a full-fledged identity crisis.
About the Authors: Nancy Peske and Beverly West arefilm fanatics, best friends, identical cousins, and the coauthors of Bibliotherapy: The Girl's Guide to Books for Every Phase of Our Lives, Meditations for Men Who Do Next to Nothing (and Would Like to Do Even Less); How to Satisfy a Woman Every Time on Five Dollars a Day; and Frankly Scarlett, I Do Give a Damn! Classic Romances Retold.
They live in New York City, where they spend much of their time debating such sophistocated cinematic polemics as the merits of Gary Oldman's ripe Camembert excess as opposed to Alan Rickman's quarter-pounder stoicism, and the far-reaching cultural implications of Brad Pitt's haircut.
Authors: Beverly West, Nancy Peske
Year of Release: 1999