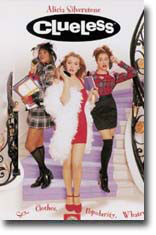 Alicia Silverstone won everyone over with her portrayal of a Beverly Hills teen, Cher Horowitz, whose penchant for helping others with their relationships and self-esteem is a cover for her own loneliness. Director Amy Heckerling (Fast Times at Ridgemont High) made a smart, funny variation on Jane Austen's novel Emma, sweetly romantic and gently satirical of 90210 social manners.Cher, a high school student in Beverly Hills, must survive the ups and downs of adolescent life.
Her external demeanor at first seems superficial, but rather it hides her wit, charm, and intelligence which help her to deal with relationships, friends, family, school, and the all-important teenage social life.Cher is rich, pretty, blonde, popular and knows how to talk anyone into doing just about anything. When she can't get a teacher (Wallace Shawn ) to give her a better grade, she and her friend Dionne (Stacey Dash) match him up with another teacher (Twink Caplan) make him happier.
When a girl named Tai (Brittany Murphy) transfers to Cher's school, she and Dionne give her a makeover and attempt to find her a boyfriend. Cher soon realizes that she wants a boyfriend herself, but no one seems right. She goes through a spiritual makeover and realizes that there's more to life than clothes and popularity before she finds the boy of her dreams.
The cast is unbeatable, including Dan Hedaya as Cher's rock-solid attorney dad and Paul Rudd as the boy who has always been Cher's surrogate brother, and yet the true holder of her most secret wishes.
This clever, modern retelling of Jane Austen's novel "Emma " was one of the best high-school theme films made in the past twenty years. Written and directed by Amy Heckerling ("Fast Times at Ridgemont High"; "Look Who's Talking) spent a year in the lives of several teens at various high schools in Los Angeles to give the filmgoer a truly authentic look at life among the young social elites of Southern California.
Silverstone stars as Cher, a young, hip teen residing with her lawyer father (Dan Hedaya) in Beverly Hills. Along with best friend Dionne, the girls are the doers of social good deeds at their high school. Whether it is trying to play matchmaker for two lonely teachers (playwright Wallace Shawn and Twink Caplan, who is also an executive producer of the film) or doing a serious make over for Tai a new, dowdy student from the east coast, Cher is the toast of the school among her peers.
Director:  Amy Heckerling
Year of Release: 1995

Character to watch: Alicia Silverstone as Cher Horowitz.
Journal your answers to the following questions after you watch the movie.
How does this particular character's journey compare with yours?
Did the character develop certain characteristics during the movie that you have or that you would like to have? If so, what are those characteristics?
What obstacles did this character face? What was his or her biggest challenge?
What would you have done differently if you had been in the same position as the character?
Is this character the type of person you would be friends with? Why or why not?