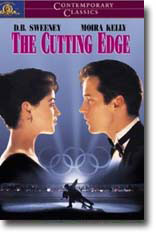 As far as ice-skating movies go or those that prominently feature the cold-bladed sport, this romantic movie is one of the best, thanks to utterly charming performances by underrated actors D. B. Sweeney and Moira Kelly. The couple play, respectively, a washed-up hockey player and a prima-donna skater who end up in doubles figure skating together at the Winter Olympics.
Of course, the mismatched pair fall in love. In between, there's a lot of verbal sparring, talk of toe picks, and surprisingly skillful directing by Paul Michael Glaser. Direction here is critical. Unlike in Flashdance, where the dancing was done in the shadows, face and feet obviously shot separately and credibly highlights the actors and their professional stand-ins. This is such a fun, sweet story that the facts the film takes liberties with–including the alacrity with which a hockey player takes to Olympic-level figure skating–are easily forgivable.
Kelly and Sweeney star as polar opposites; she's a rich and refined pairs figure skater whose prima donna attitude has her skating solo. He's a brash, blue-collar hockey champion with a new injury and no future.  Brimming with wit, charm and plenty of breathtaking sports action, The Cutting Edge is a real winner.
With nothing in common but their dream of reaching the Olympics, Kate and Doug are each other's last resort. Reluctantly, they join forces, but its not long before the barbs and sparks start flying as the unlikely pair skate towards the opportunity of a lifetime: a chance at a medal and a chance at love.
Director:  Paul Michael Glaser
Year of Release: 1992

Character to watch: D. B. Sweeney as Doug Dorsey.
Journal your answers to the following questions after you watch the movie.
How does this particular character's journey compare with yours?
Did the character develop certain characteristics during the movie that you have or that you would like to have? If so, what are those characteristics?
What obstacles did this character face? What was his or her biggest challenge?
What would you have done differently if you had been in the same position as the character?
Is this character the type of person you would be friends with? Why or why not?