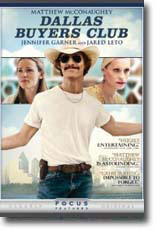 Matthew McConaughey gives the performance of his career in this uplifting and powerful film inspired by true events. Texas cowboy Ron Woodroof (McConaughey) sees his free-wheeling life overturned when he's diagnosed as HIV-positive and given 30 days to live.
Determined to survive, Woodroof decides to take matters in his own hands by tracking down alternative treatments from all over the world by means both legal and illegal. After finding an unlikely ally in Rayon (Jared Leto), he establishes a hugely successful "buyers' club" and unites a band of outcasts in a struggle for dignity and acceptance that inspires in ways no one could have imagined.
Electrician and sometimes rodeo bull rider, Woodroof lives hard, which includes heavy smoking, drinking, drug use, and casual sex. He is a stereotypical redneck: racist and homophobic. While in the hospital on a work related injury, the doctors discover and inform him that he is HIV+, and that he will most-likely die within thirty days.
Ron is initially in angry denial that he would have a disease that only gay people have, but upon quick reflection comes to the realization that the diagnosis is probably true. He begins to read whatever research is available about the disease, which at this time seems to be most effectively treated by the drug AZT. AZT, however, is only in the clinical trials stage within the US. Incredulous that he, as a dying man, cannot pay for any drug which may save or at least prolong his life, he goes searching for it by whatever means possible.
Director: Jean-Marc Vallée
Year of Release: 2013

Character to watch: Jared Leto as Rayon.
Journal your answers to the following questions after you watch the movie.
How does this particular character's journey compare with yours?
Did the character develop certain characteristics during the movie that you have or that you would like to have? If so, what are those characteristics?
What obstacles did this character face? What was his or her biggest challenge?
What would you have done differently if you had been in the same position as the character?
Is this character the type of person you would be friends with? Why or why not?