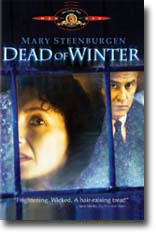 Mary Steenburgen and Roddy McDowall star in a pulse-pounding thriller in the tradition of the legendary master of suspense, Alfred Hitchcock. You'll find yourself on the edge of your seat with this bone-chilling tale of deception, blackmail and murder in which no one is who they seem to be and any mistake could be your last.
When actress Katie McGovern (Steenburgen) is summoned to an isolated estate for a screen test, she finds that her mysterious hosts, Mr. Murray (McDowall) and Dr. Joseph Lewis (Jan Rubes), have plans for her that have nothing to do with acting,
When the deadly money-making scheme erupts in a firestorm of double-crosses and cold-blooded murder, Katie realizes she has only one chance at survival: She must turn the tables on her enemies by giving the performance of her life.
This movie is actually an unofficial remake of the minor film noir classic My Name Is Julia Ross. Steenburgen as an out-of-work actress lured to the mansion where she realizes she has been kidnapped and is being groomed to play someone else. While eerie and unsettling, this film is also wrapped in a thick, anachronistic melodrama.
This relatively unknown suspense catches one by surprise. Nothing is taken for granted. The story starts with a simple premise an slowly develops constant anticipation, step by step, to an amazing conclusion. Dead of Winter is what a cross between the horror and mystery genre should be.
It is the kind of movie that keeps you on your feet every time that you watch it and it has an in depth mystery which has a complexity to it that involves plot turns that makes one think. The characterization is one fitting for a movie of this genre.
Director: Arthur Penn
Year of Release: 1987

Character to watch: Mary Steenburgen as Katie McGovern.
Journal your answers to the following questions after you watch the movie.
How does this particular character's journey compare with yours?
Did the character develop certain characteristics during the movie that you have or that you would like to have? If so, what are those characteristics?
What obstacles did this character face? What was his or her biggest challenge?
What would you have done differently if you had been in the same position as the character?
Is this character the type of person you would be friends with? Why or why not?