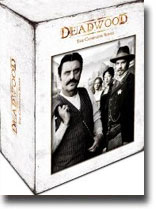 The Black Hills of South Dakota. Witness the birth of an American frontier town – and the ruthless power struggle between its just and unjust pioneers. In an age of plunder and greed, the richest gold strike in American history draws a mob of restless misfits to an outlaw settlement where everything – and everyone – has a price.The settlers, ranging from an ex-lawman to a scheming saloon owner to the legendary Wild Bill Hickok and Calamity Jane, share a constant restlessness of spirit, and survive by any means necessary. Welcome to Deadwood, a hell of a place to make your fortune.
Deadwood represents one of those periodic, wholesale reinventions of the Western that is as different from, say, Lonesome Dove as that miniseries is from Howard Hawks's Rio Bravo or the latter is from Anthony Mann's The Naked Spur. In many ways, HBO's Deadwood embraces the Western's unambiguous morality during the cinema's silent era through the 1930s while also blazing trails through a post-NYPD Blue, post-The West Wing television age exalting dense and customized dialogue.
On top of that, Deadwood has managed an original look and texture for a familiar genre: gritty, chaotic, and surging with both dark and hopeful energy. Yet the show's creator, erstwhile NYPD Blue head writer David Milch, never ridicules or condescends to his more grasping, futile characters or overstates the virtues of his heroic ones.
Set in an ungoverned stretch of South Dakota soon after the 1876 Custer massacre, Deadwood concerns a lawless, evolving town attracting fortune-seekers, drifters, tyrants, and burned-out adventurers searching for a card game and a place to die.
Others, particularly women trapped in prostitution, sundry do-gooders, and hangers-on have nowhere else to go. Into this pool of aspiration and nightmare arrive former Montana lawman Seth Bullock (Timothy Olyphant) and his friend Sol Starr (John Hawkes), determined to open a lucrative hardware business.
Over time, their paths cross with a weary but still formidable Wild Bill Hickok (Keith Carradine) and his doting companion, the coarse angel Calamity Jane (Robin Weigert); an aristocratic, drug-addicted widow (Molly Parker) trying to salvage a gold mining claim; and a despondent hooker (Paula Malcomson) who cares, briefly, for an orphaned girl. Casting a giant shadow over all is a blood-soaked king, Gem Saloon owner Al Swearengen (Ian McShane), possibly the best, most complex, and mesmerizing villain seen on TV in years.
Each of these characters, and many others, will forge alliances and feuds, cope with disasters (such as smallpox), and move–almost invisibly but inexorably–toward some semblance of order and common cause. Making it all worthwhile is Milch's masterful dialogue–often profane, sometimes courtly and civilized, never perfunctory–and the brilliant acting of the aforementioned performers plus others.

Character to watch:  Timothy Olyphant as Seth Bullock.
Journal your answers to the following questions after you watch the series.
How does this particular character's journey compare with yours?
Did the character develop certain characteristics during the movie that you have or that you would like to have? If so, what are those characteristics?
What obstacles did this character face? What was his or her biggest challenge?
What would you have done differently if you had been in the same position as the character?
Is this character the type of person you would be friends with? Why or why not?