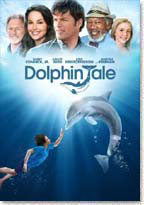 The initial scenes of the movie show a pod of dolphins in their natural place followed by a crab fisherman returning a crab trap to the ocean after emptying the trap of its contents. In the next scene, Sawyer Nelson (Nathan Gamble) is biking along the beach when a fisherman (Richard Libertini), calls for help after finding an injured bottlenose dolphin tangled in a crab trap.
The two call for assistance, and rescue workers from the Clearwater Marine Hospital, run by Dr. Clay Haskett (Harry Connick Jr.), take the injured dolphin for treatment. Clay's daughter Hazel (Cozi Zuehlsdorff) names the dolphin Winter, as two prior dolphins, Summer and Autumn, were successfully returned to the ocean, and believes that using seasons as names will continue the streak. She allows Sawyer to see Winter.
Clay initially does not like the arrangement since Sawyer is not trained in marine animal care, but after noticing that Winter responds well whenever Sawyer is around, he is allowed to visit. Soon Sawyer, who was enrolled in summer school due to his failing or nearly failing all his classes during the year, starts skipping classes daily to visit Winter.
Sawyer's mother Lorraine (Ashley Judd) finds out about Sawyer skipping classes, but after seeing that Sawyer's interaction with Winter has improved his moods and well-being, something Sawyer had not shown since being abandoned by his father who disappeared five years earlier, she withdraws him from summer school and allows him to volunteer at the hospital. Unfortunately, Winter's tail is damaged and thus must be amputated.
Winter learns to swim without a tail by developing a side-to-side motion, like a fish, but after an x-ray Clay notices that the unnatural motion is causing stress on her spine; if continued the motion will eventually kill her. Meanwhile, Sawyer's cousin Kyle (Austin Stowell), a champion swimmer, returns from the military with a damaged right leg from an explosion.
Director: Charles Martin Smith
Year of Release: 2011

Character to watch: Nathan Gamble as Sawyer Nelson.
Journal your answers to the following questions after you watch the movie.
How does this particular character's journey compare with yours?
Did the character develop certain characteristics during the movie that you have or that you would like to have? If so, what are those characteristics?
What obstacles did this character face? What was his or her biggest challenge?
What would you have done differently if you had been in the same position as the character?
Is this character the type of person you would be friends with? Why or why not?