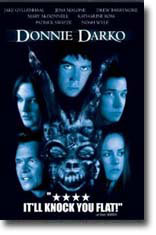 This unclassifiable but stunningly original film obliterates the walls between teen comedy, science fiction, family drama, horror, and cultural satire–and remains wildly entertaining throughout. Jake Gyllenhaal stars as Donnie, a borderline-schizophrenic adolescent for whom there is no difference between the signs and wonders of reality (a plane crash that devastates his house) and hallucination (a man-sized, reptilian rabbit who talks to him).
Obsessed with the science of time travel and acutely aware of the world around him, Donnie is isolated by his powers of analysis and the apocalyptic visions that no one else seems to share. The debut feature of writer-director Richard Kelly, Donnie Darko is a shattering, hypnotic work that sets its own terms and gambles that a viewer will stay aboard for the full ride.
Donnie Darko is an edgy, psychological thriller about a suburban teen coming face-to-face wit his dark destiny. Donnie is a delusional high-school student visited by a demonic rabbit with eerie visions of the past and deadly predictions for the future. This excitingly original nail-biter will keep you on the edge of your seat until the mind-bending climax.
This is a highly intelligent and challenging film that engages us as much as it baffles us, that injects enough humor to keep us from stress-overload, and most importantly, makes us want to watch it again and again, even after we know what's going on. The script is original and entirely unpredictable. There isn't a single bit of action or dialogue, not one frame that can be anticipated.
The characters, too, are refreshingly well-conceived and highly unique. And it's a treat to see actors we know well (such as Drew Barrymore and Noah Wyle) stretch well beyond our usual expectations. There is great humor in this film as well as great sorrow. And, ultimately, it's impossible to say if the entire scenario takes place within the dreams of a brilliant but possibly schizophrenic young man or if, as he so desperately wishes, he has, through physics, managed to reverse time.
Director: Richard Kelly
Year of Release: 2001

Character to watch: Jake Gyllenhaal as Donnie Darko.
Journal your answers to the following questions after you watch the movie.
How does this particular character's journey compare with yours?
Did the character develop certain characteristics during the movie that you have or that you would like to have? If so, what are those characteristics?
What obstacles did this character face? What was his or her biggest challenge?
What would you have done differently if you had been in the same position as the character?
Is this character the type of person you would be friends with? Why or why not?