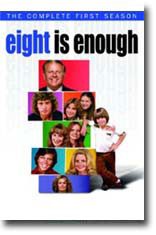 Before the extended families that came to dominate prime time, ABC launched Eight Is Enough, an adaptation of Crossfire host Thomas W. Braden's memoir. The pilot sets the tone: parenting is serious stuff, but a little humor never hurts and consequently, a redundant laugh track occasionally comes into play. Tom Bradford (Dick Van Patten), a Sacramento columnist, and his wife, Joan (Diana Hyland), are imperfect, but involved parents.
As the series begins, oldest son David (Mark Hamill), a construction worker, leaves the nest, but there would be a few cast changes by the second episode. Notably, Grant Goodeve would replace Hamill, while Willie Aames took over as Tommy. With women's lib in full effect, the Bradford women spend much of these nine episodes trying to find their way in a changing world: Joan takes up photography, Susan (Susan Richardson) goes on a ski trip with a male coed, and Mary (Lani O'Grady) opposes her father during a newspaper strike.
Other episodes revolve around Tommy's crush on an indecisive classmate (Charlene Tilton) and David's affair with an older woman (Adrienne Barbeau). That leaves Joanie (Laurie Walters), the drama student, Nancy (Dianne Kay), the cheerleader, Elizabeth (Connie Newton), the typical teenager, and Nicholas (Adam Rich), the elfin pipsqueak.
Once you get past the flared jeans and wide lapels, Eight Is Enough holds up surprisingly well, since the primary concerns are timeless. If the acting can be uneven, the chemistry between cast members papers over the cracks. Sadly, Hyland only filmed four episodes due to illness (she passed away in 1977). In the second season, Betty Buckley stepped in as the newest member of the Bradford clan.

Character to watch: Dick Van Patten as Tom Bradford.
Journal your answers to the following questions after you watch the series.
How does this particular character's journey compare with yours?
Did the character develop certain characteristics during the movie that you have or that you would like to have? If so, what are those characteristics?
What obstacles did this character face? What was his or her biggest challenge?
What would you have done differently if you had been in the same position as the character?
Is this character the type of person you would be friends with? Why or why not?