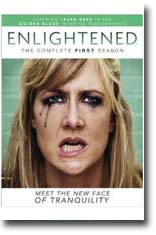 The pay-TV landscape just keeps getting better as the 21st century matures, and the medium along with it. Shows like Enlightened on the knockout HBO roster prove that premium cable is thriving in both the broadcast and home theater markets.The focus is on an enigmatic, dynamic, yet seriously damaged female lead is the absorbing narrative focus of Enlightened.
Laura Dern plays Amy Jellicoe, a high-powered executive at a soulless high-tech consumer products corporation who has a high-end freak-out at work after the dissolution of a disastrous affair with her married boss.
The title and premise reveal themselves in nifty short order after this jarring prologue as Amy retreats to a specialized rehab facility in Hawaii, where she finds peace, tranquility, and a spiritual center that she brings back to her corporate world and the many stressors that are the result of Amy being Amy. The premiere episode packs a lot into 30 minutes, as does each subsequent installment by doling out backstory details about Amy's life pre- and post-meltdown.
One of the triumphs of the absorbing mix of comedy and seriousness in Enlightened is the fact that its satirical core remains separate from its genuinely affecting character details and too-close-for-comfort observations about modern life. Though she appears to have made an honest change in her spiritual world, Amy is still deeply screwed up. The interactions that unfold with her family and coworkers continually try her newfound sense of well-being, illustrating that everyone's grasp of reality is always tenuous and subjective regardless of any sense of personal enlightenment.
Amy's snippets of narration play like a self-help regimen aimed directly at the viewers; her affirmations are not just for her own benefit, they're also meant to bring us into the fold on her ongoing quest for illumination. "You can change," she says to herself, "and you can be an agent of change." Are you listening? Enlightened was developed (along with Dern) and written by Mike White, who also plays one of Amy's coworkers, Tyler, a marginally creepy, socially challenged misfit she gets stuck with in the bowels of a corporate IT hellhole.
White's off-kilter sensibility is at its peak in Enlightened, which is restricted and enhanced by the concision of its format and the pithy fine points of plot that are simultaneously amusing, disturbing, and spot-on in their observational tone. The cast also includes Diane Ladd as Helen, Amy's mother (Dern's too), who's bewildered and more than a little exasperated when Amy moves in with her ready to heal something that Helen wants to stay broken.
Luke Wilson plays Amy's ex-husband Levi, a man-child in love with drugs who Amy also wants to help by providing healing that he doesn't really want. All of these people and the many other characters in Amy's life that the show deftly introduces and weaves into its dramatic structure mostly keep their own counsel—just like people in the real world do.
But when they talk it's important to listen closely. The 10 brisk episodes continue to reveal more about them all as the web of Amy's connections and the roots of her psychic vision quest unravels. Enlightened is the kind of show that requires active viewing and demands that attention be paid in order to get up to speed with its conceptual center. But once hooked, nirvana in the form of a half-hour TV show is not far behind.

Character to watch: Laura Dern as Amy Jellicoe.
Journal your answers to the following questions after you watch the series.
How does this particular character's journey compare with yours?
Did the character develop certain characteristics during the movie that you have or that you would like to have? If so, what are those characteristics?
What obstacles did this character face? What was his or her biggest challenge?
What would you have done differently if you had been in the same position as the character?
Is this character the type of person you would be friends with? Why or why not?