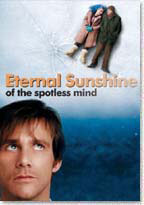 Joel Barish (Jim Carrey) and Clementine Kruczynski (Kate Winslet) strike up a relationship on a Long Island Rail Road train from Montauk, New York. They are drawn to each other on account of their radically different personalities; he is withdrawn and she is outgoing. Much of the film takes place in Joel's mind. As his memories are erased, Joel finds himself revisiting them in reverse.
Although Joel and Clementine do not realize it at the time, they are in fact former lovers, now separated after having spent two years together. After a bad fight at the end of that relationship, Clementine hired a company. to erase all her memories of their relationship. Upon discovering that Clementine did this, Joel is devastated and decides to undergo the same procedure himself, a process that takes place while he sleeps.
Joel decides that he must get the same thing done to him and goes to the clinic to have her erased from his memory, hoping that the pain and sadness will go away. When he's undergoing the procedure, unconscious and reliving the memories as they are being erased, Joel begins to realize that there were some very happy moments he had with her and he doesn't want to lose them after all.
It's really hard to categorize a movie like this. While it is indeed a comedy on some levels, it has a lot of dramatic elements to it, as well. Because of this, people will either fall in love with it or despise every minute of it. What really struck home with me is how honest and creative it really is. You'll find a lot more honesty and truth in Eternal Sunshine of the Spotless Mind than in most of the "cute" comedies that are out there today. It is extremely easy to relate to the characters, and that is what makes it all the more realistic for us. Jim Carrey is absolutely fantastic in this, as he is very controlled and doesn't try to steal the show.
Director: Michel Gondry
Year of Release: 2004

Character to watch: Jim Carrey as Joel Barish.
Journal your answers to the following questions after you watch the movie.
How does this particular character's journey compare with yours?
Did the character develop certain characteristics during the movie that you have or that you would like to have? If so, what are those characteristics?
What obstacles did this character face? What was his or her biggest challenge?
What would you have done differently if you had been in the same position as the character?
Is this character the type of person you would be friends with? Why or why not?