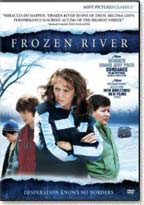 Frozen River takes place in the days before Christmas near a little-known border crossing on the Mohawk reservation between New York State and Quebec. Here, the lure of fast money from smuggling presents a daily challenge to single moms who would otherwise be earning minimum wage and working long hours. The movie focuses on two women, Ray Eddy (Melissa Leo) and Lila Littlewolf (Misty Upham), one white and one Mohawk, who are both single mothers faced with desperate circumstances.The women are drawn into the world of border smuggling across the frozen water of the St. Lawrence River. Because the women's route takes them from an Indian reservation in the US to an Indian reserve in Canada, they hope to avoid detection by local law-enforcement.
However, their problems escalate when they are asked to smuggle a Pakistani couple and Ray, fearful their duffel bag might contain explosives, leaves it behind in sub-freezing temperatures, only to discover it contained their infant baby when they arrive at their destination.
This is the story of two women and takes place a few days before Christmas. Ray, played by Melissa Leo, has just been deserted by her husband. She's in her late forties and is the mother of a 15-year old and a 5-year old boy. She works part time in a dead-end job in dollar store and is almost penniless. She can barely feed her family, her TV is about to be repossessed and there seems to be no way she can make the balloon payment on a new double-wide trailer on which she has a down payment.
Lila, played by Misty Upham, is a Mohawk Indian who lives on the reservation and works in the local bingo parlor. She is also penniless. Her husband is dead. Her baby has been taken from her by her mother-in-law, and she lives in a run-down trailer on the reservation. This reservation occupies parts of Canada as well as the U.S., and she can make some good money by driving across the frozen river between the countries and smuggling illegal immigrants into the U.S. But she needs a car. And Ray has the right kind of car with a large trunk.
The landscape is cold and bleak. Their car is a rickety Dodge Spirit. The women are strong, hard and desperate. They hate each other but soon realize that if they work together they might be able to improve their situations. The plot moves fast and is almost pure action. Their characterizations grow out of their situation. We see the different ways that Indians and whites are treated. We understand the hatred that the Indian woman feels for the white woman.
Director: Courtney Hunt
Year of Release: 2008

Character to watch: Melissa Leo as Ray Eddy.
Journal your answers to the following questions after you watch the movie.
How does this particular character's journey compare with yours?
Did the character develop certain characteristics during the movie that you have or that you would like to have? If so, what are those characteristics?
What obstacles did this character face? What was his or her biggest challenge?
What would you have done differently if you had been in the same position as the character?
Is this character the type of person you would be friends with? Why or why not?