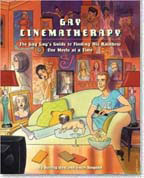 Think Will and Grace Go to the Movies and you've got Gay Cinematherapy: The Queer Guy's Guide to Finding Your Rainbow One Movie at a Time, a film guide that understands what gay men and their best friends have known for years: that the Oscars isn't just an awards show but the Gay Super Bowl, and that movies are more than entertainment, that they're a form of therapy that can help you cope with everything from a coming-out crisis to the home-alone-homo blues.
Beverly West, coauthor of the Cinematherapy series, a cultural phenomenon with over 240,000 copies in print and coverage everywhere from CNN to the Today Show to Entertainment Weekly to Vogue, has teamed up with her best friend and roommate, Jason Bergund, to help gay men find the comfort, inspiration, humor, and inner beauty tips they need-all without looking any further than the neighborhood video store.
Drawing on gaythemed and mainstream movies from the past and present, and with an extra helping of anything starring Judy, Bette, Bette, Joan, and Madonna, Gay Cinematherapy is the perfect addition to every gay guy's shelf.
About the Authors: Beverly West and Jason Bergund are best friends, co-authors, co-hosts, and co-owners of a pug living on the Upper West Side of Manhattan. Beverly is the author of Culinarytherapy and the coauthor of Cinematherapy, Bibliotherapy, Advanced Cinematherapy, Cinematherapy for Lovers, and Cinematherapy for the Soul.
A member of the National Gay and Lesbian Journalism Association, she is also the author of Love, Danny . . . Advice from a Positive Perspective, an advice column for people with HIV and the people who love them.  Jason Bergund is a dancer/choreographer and an obsessed movie fan. Together with Bev he hosts a weekly movie review show called On the Couch with Bev and Jason for Sirius Satellite's Out Q.
Authors:  Jason Bergund, Beverly West
Year of Release: 2004