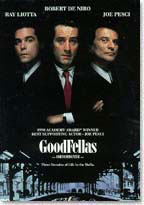 Martin Scorsese's 1990 masterpiece GoodFellas immortalizes the hilarious, horrifying life of actual gangster Henry Hill (Ray Liotta), from his teen years on the streets of New York to his anonymous exile under the Witness Protection Program.
Henry Hill (Ray Liotta) says, "As far back as I can remember, I always wanted to be a gangster," acknowledging his idolizing the Lucchese crime family gangsters in his blue-collar, predominantly Italian-American neighborhood in East New York, Brooklyn in 1955. Wanting to be part of something significant, Henry quits school and goes to work for them.
Henry's Irish-American father tries to stop Henry after learning of his truancy, but the gangsters threaten the local postal carrier with dire consequences should he deliver any more letters from the school to Henry's house. Henry is able to make a living for himself, and learns the two most important lessons in life: "Never rat on your friends, and always keep your mouth shut," the advice given to him after being acquitted of criminal charges early in his career.
Henry is taken under the wing of the local mob capo, Paul "Paulie" Cicero (Paul Sorvino) and his associates, Jimmy "The Gent" Conway (Robert De Niro), who loves hijacking trucks, and Tommy DeVito (Joe Pesci), an aggressive armed robber with a hair-trigger temper. In late 1967 they commit the Air France Robbery, marking Henry's debut into the big time. Enjoying the perks of their criminal life, they spend most of their nights at the Copacabana with countless women.
Henry meets and later marries Karen (Lorraine Bracco), a Jewish girl from the Five Towns. Karen is initially troubled by Henry's criminal activities, but is soon seduced by his glamorous lifestyle. When a neighbor assaults her for refusing his advances, Henry pistol-whips him in front of her. She feels aroused by the act, especially when Henry gives her the gun and tells her to hide it.
Director: Martin Scorsese
Year of Release: 1990

Character to watch: Ray Liotta as Henry Hill.
Journal your answers to the following questions after you watch the movie.
How does this particular character's journey compare with yours?
Did the character develop certain characteristics during the movie that you have or that you would like to have? If so, what are those characteristics?
What obstacles did this character face? What was his or her biggest challenge?
What would you have done differently if you had been in the same position as the character?
Is this character the type of person you would be friends with? Why or why not?