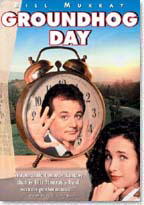 Narcissistic meteorologist Phil Connors (Bill Murray), news producer Rita (Andie MacDowell), and cameraman Larry (Chris Elliott), of a Pittsburgh television station travel to Punxsutawney, Pennsylvania for Ground Hog's Day on February 1. Their assignment is to cover the annual Punxsutawney Groundhog Day festivities on February 2. The team completes the assignment and the gets on the road back to Pittsburgh, but a blizzard shuts down all travel. They are forced to return to town and stay another night at the local bed and breakfast.
Phil wakes up the next morning to find that he is reliving the previous day: February 2. The day plays out exactly as it did the day before, but no one but Phil is aware of the time loop. At first Phil is confused, but as the phenomenon continues on subsequent days, he starts to take advantage of the situation with no fear of long-term consequences. He learns all the secrets from the town's residents and uses them to seduce women and steal money.
In the process, Phil decides he wants to get closer to Rita but his attempts to get closer to her repeatedly fail. Eventually, Phil becomes despondent and tries everything he can think of to end the time loop. He gives crazy TV reports on the festival, abuses the town's residents, and even kidnaps the gopher, Punxsutawney Phil. After a police chase, he drives off a cliff into a quarry, killing himself and the groundhog. Of course, Phil awakes the next morning and finds that nothing has changed.
Groundhog Day is a morality piece done in the vein of a classic Rod Serling's Twilight Zone episode. I kind of "what if…?" sort of tale that puts a generally successful and selfish man (played by Murray) into a hopeless situation of never being able to escape a single day in a small town. On the surface the story it looks like a situation comedy with Murray's character living the same Groundhog Day over and over. However the further you go into the movie you get some true and believable character development. The fact Bill pulls it off convincingly as well as with his classic entertaining wit is what makes the movie shine.
Director: Harold Ramis
Year of Release: 1993

Character to watch: Bill Murray as Phil Conners.
Journal your answers to the following questions after you watch the movie.
How does this particular character's journey compare with yours?
Did the character develop certain characteristics during the movie that you have or that you would like to have? If so, what are those characteristics?
What obstacles did this character face? What was his or her biggest challenge?
What would you have done differently if you had been in the same position as the character?
Is this character the type of person you would be friends with? Why or why not?