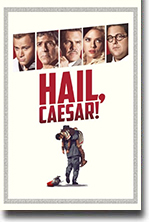 Filmmakers Joel and Ethan Coen write and direct Hail, Caesar!, an all-star comedy set during the latter years of Hollywood's Golden Age. Starring Josh Brolin, George Clooney, Alden Ehrenreich, Ralph Fiennes, Jonah Hill, Scarlett Johansson, Frances McDormand, Tilda Swinton and Channing Tatum, Hail, Caesar! follows a single day in the life of a studio fixer who is presented with plenty of problems to fix.
This is a great movie by any measure. It's an entertainment on the surface, with amazing stunts, huge sets, technical dance numbers, entertaining "bits", great music both as background and foreground, beautiful places and cinematography, and interesting characters that tie all these things together. Attempting to disassemble any part of this juggling act in the act of judging the Movie is to miss the whole point of the movie.
The movie is designed to work as a "meta" meta possibly meta again if you think about it. Whether or not you agree with the espoused mature outlook, the body politic if you will, hidden within the clever script, whether or not you choose to pull outward and see how actually genius the entire presentation is as a whole, you can't help but be entertained by this product of Hollywood about Hollywood using the "language" of Hollywood in incredibly clever ways.
Like I said; pure genius, and, I left with a smile on my face. It's almost like this movie bookends Barton Fink. It certainly revisits certain character types found in other Coen brothers movies revealing new perspectives and insight, apparent as the great "observers" of our era follow the normal course of maturing. This truly is an entertainment that must be viewed more than once but only time will tell if it's a classic.
Director: Joel and Ethan Coen
Year of Release: 2015

Character to watch: Josh Brolin as Eddie Mannix.
Journal your answers to the following questions after you watch the movie.
How does this particular character's journey compare with yours?
Did the character develop certain characteristics during the movie that you have or that you would like to have? If so, what are those characteristics?
What obstacles did this character face? What was his or her biggest challenge?
What would you have done differently if you had been in the same position as the character?
Is this character the type of person you would be friends with? Why or why not?