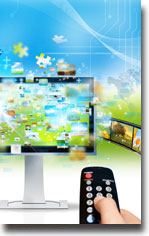 HBO, the premium cable and satellite television network, has created a numbers of applications that are now available on platforms. This represents a major step forward this week for cord cutting, as HBO becomes available on both TV and Sling TV. This is happening just in time for HBO's Game of Thrones premiere.
For those of you who are unfamiliar with the lingo, cord cutting refers to the process of cutting expensive cable connections in order to change to a low-cost TV channel subscription through over-the-air (OTA) free broadcast through antenna, or over-the-top (OTT) broadcast over the Internet.
Apple and HBO announced earlier this year that HBO Now would be available exclusively in the United States on Apple TV and the App Store. HBO Now, for $14.99 a month, made its first appearance on Apple TV last week. Then a few days later, Sling TV offered a version of HBO at the same price to its customers. The Sling version is significantly different than the Apple TV version. With Sling, HBO is simply a live feed, and you cannot go back 3 days as you can with a few of Sling's other cable TV offerings. In fact, that is one of the most frustrating things about Sling TV, the fact that only a few channels have the 3 day playback feature. Additionally, HBO cannot be paused, fast-forwarded, or rewound on Sling, options that are all available on HBO Now and HBO Go.
Apple TV's HBO Now allows you to access HBO's catalogue. After comparing HBO Now to HBO Go, I ca tell you that they appear to be identical. HBO Go is a TV Everywhere service that allows users who are subscribers to the service on participating providers to stream a video on demand selection of HBO content. This includes current and past series, films, specials, and sporting events, through either the HBO website, or apps on mobile devices, video game consoles, and digital media players. The service first launched on February 18, 2010.
The significant difference between HBO Go and HBO Now is that you do not have to subscribe to a participating provider, such as Comcast or DirectTV in order to stream HBO. Again, the main different between HBO Now and Sling's HBO is that Sling only allow you to stream a single live HBO channel and does not allow access to HBO's catalogue.
HBO Now looks great, but some experts question whether Apple and Sling TV deal will have problems with network broadband and server demands. Apple currently has HBO Now as an exclusive, but other rival Internet TV devices, such as Roku, Google's Chromecast and Microsoft's Xbox, could offer the new service in the nest three months. This was in the deal Apple struck with HBO
Whether you use Sling or Apple TV to watch HBO, both will provide access to current shows. But if you want full seasons of shows like old Band of Brothers, Sex and the City, and The Sopranos and new Silicon Valley, True Detective, Game of Thrones, and other HBO exclusive content, Apple TV is currently the only cord-cutting alternative.