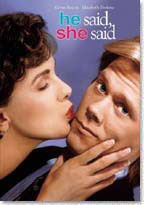 This is a story about the tumultuous relationship between two co-working journalists, Dan Hanson (Bacon) and Lorie Bryer (Perkins). The story of their budding romance is told twice; once from each of their perspectives. In keeping with the point of view of each gender, the man's story was directed by Ken Kwapis and the woman's by Marisa Silver.
At the time of filming, Kwapis and Silver were engaged and they married shortly after the release of the film.In the film, Dan and Lorie are rival editorial page contributors at the Baltimore Sun newspaper. The rivalry between the conservative Dan and liberal Lorie leads to a television series where each present their opposing views on various topics such as abortion, sexual harassment, and gay rights. As Dan and Lorie get to know each other better, they discover they have feelings for each other. Those feelings come to a head when Lorie throws a coffee cup at Dan on air, injuring him in the process.
The story centers around a pair of young journalists. They are competing with each other for a newspaper column. In an act of spineless cravenness, the editors decide to run both columns and treat the pair as rivals. The formula works well for the newspaper and for the young writers. It also brings them closer together.
To begin with, they did not much like each other. As they spend time together, however, they fall in love. This is a big step for both of them. For his part, he willingly gives up having sex with every hottie in town. For her part, she needs to trust him and not push him too hard. Each tires very hard and but each has a talent for pushing the other's buttons and hacking the other off.
The film opens at the point where the newspaper has metamorphed into a TV spot. Right after he gives his opinion, she beans him with her coffer cup. The rest of the movie is a series of flashbacks as they each relieve their memories. Being a man and woman, they have very different memories of the same events. It is absolutely hilarious.
Directors: Ken Kwapis, Marisa Silver
Year of Release: 1991

Character to watch: Kevin Bacon as Dan Hanson.
Journal your answers to the following questions after you watch the movie.
How does this particular character's journey compare with yours?
Did the character develop certain characteristics during the movie that you have or that you would like to have? If so, what are those characteristics?
What obstacles did this character face? What was his or her biggest challenge?
What would you have done differently if you had been in the same position as the character?
Is this character the type of person you would be friends with? Why or why not?