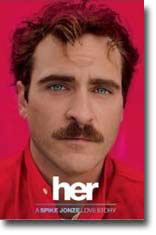 Her is an unusual movie with some interesting observations about the way in which people are becoming more reliant on technology. It's set in Los Angeles in the not too distant future, and tells the story of Theodore Twombly (Joaquin Phoenix). He works as a writer, producing flowery love letters for people who who lack the ability to express their feelings. He's good at his job.
Unfortunately, Theodore's own relationship is failing and he is soon to be divorced from his wife, Catherine (Rooney Mara). When he buys a new computer operating system, his life changes dramatically. The program adapts to his personality and needs, and evolves at a tremendous rate. This screen persona names 'herself' Samantha, and is voiced by Scarlett Johansson.
To his surprise and delight, Theodore finds that he is able to connect with Samantha in ways that he never could with a physical person. Communication is everything in his relationship, and he finds it easy to express his deepest thoughts and feelings to Samantha. At the outset, it's probably a form of self-analysis, but as the relationship develops, it's clear that Samantha is real to Theodore.
I think modern technology is under the microscope in this movie, and director Spike Jonze is observing how so many people are open to sharing their feelings on the Internet. It seems that many of us are less guarded and willing to risk revealing our secrets when we don't have to do it face-to-face. That's certainly true for me. The movie also deals with the irony of Theodore's success in writing about other people's feelings while struggling to communicate in his own personal life.
Director: Spike Jonze
Year of Release: 2013

Character to watch: Joaquin Phoenix as Theodore Twombly.
Journal your answers to the following questions after you watch the movie.
How does this particular character's journey compare with yours?
Did the character develop certain characteristics during the movie that you have or that you would like to have? If so, what are those characteristics?
What obstacles did this character face? What was his or her biggest challenge?
What would you have done differently if you had been in the same position as the character?
Is this character the type of person you would be friends with? Why or why not?