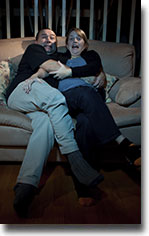 Histrionic personality disorder is characterized by a long-standing pattern of attention seeking behavior and extreme emotionality. Someone with histrionic personality disorder wants to be the center of attention in any group of people, and feel uncomfortable when they are not.
While often lively, interesting and sometimes dramatic, they have difficulty when people aren't focused exclusively on them. People with this disorder may be perceived as being shallow, and may engage in sexually seductive or provocative behavior to draw attention to themselves.
Individuals with histrionic personality disorder may have difficulty achieving emotional intimacy in romantic or sexual relationships. Without being aware of it, they often act out a role (such as the victim) in their relationships to others. They may seek to control their partner through emotional manipulation or seductiveness on one level, whereas displaying a marked dependency on them at another level.
Symptoms of Histrionic Personality Disorder
A pervasive pattern of excessive emotionality and attention seeking, beginning by early adulthood and present in a variety of contexts, as indicated by five (or more) of the following:
Is uncomfortable in situations in which he or she is not the center of attention
Interaction with others is often characterized by inappropriate sexually seductive or provocative behavior
Displays rapidly shifting and shallow expression of emotions
Consistently uses physical appearance to draw attention to themself
Has a style of speech that is excessively impressionistic and lacking in detail
Shows self-dramatization, theatricality, and exaggerated expression of emotion
Is highly suggestible, i.e., easily influenced by others or circumstances
Considers relationships to be more intimate than they actually are
Histrionic Personality Disorder in Film
There have been a number of movies have had characters who portrayed a person with histrionic personality disorder. The following films contain a character with histrionic personality disorder that depicts the condition in a realistic manner. Each film also provides a foundation for a good Cinema Therapy experience due to directorial style, character development, casting, and production quality. New releases will be added to the list below so return if this topic is of interest to you.
Gone with the Wind (1939)
Mr. & Mrs. Smith (1941)
A Streetcar Named Desire (1951)
Thaniyavarthanam (1987)
Small Sacrifices (1989)
Mean Girls (2004)
Breathe (2014)
Being Julia (2004)
The Great Gatsby (2013)
Gone with the Wind (1939)
Postcards from the Edge (1990)
Beaches (1991)
The Birdcage (1996)
America's Sweethearts (2001)
Chicago (2002)