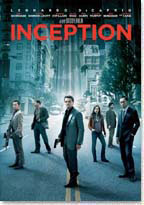 Former dream architect Dominic Cobb (Leonardo DiCaprio) and business partner Arthur (Joseph Gordon-Levitt) perform corporate espionage using an experimental military-developed machine to infiltrate the subconscious of their targets and extract information while dreaming, their latest target being Japanese businessman Saito (Ken Watanabe).
Tiered dream within a dream strategies are used and dreamers awaken by a kick such as falling or by dying in the dream. If the dreamer is the one who awakens, the dream collapses. Each extractor carries a totem, a small object the behavior of which is only predictable to its owner, used to determine whether a dreamer is in someone else's dream.
Cobb's totem is a spinning top that perpetually spins in the dream state. The extraction fails due to Mallorie Cobb (Marion Cotillard), Cobb's deceased wife, whose memory projection sabotages the mission.
Saito reveals, after Cobb's and Arthur's associate sells them out, that he was actually auditioning the team to perform the difficult act of inception: implanting an idea into a person's subconscious while they sleep. Saito wishes to break up the energy conglomerate of his ailing competitor Maurice Fischer (Pete Postlethwaite), by planting the idea in his son and heir Robert Fischer to disintegrate his father's company. Should Cobb succeed, Saito would use his influence to clear a murder charge against Cobb, so he can return to the United States and his children.
Cobb accepts the offer and assembles his team: Eames (Tom Hardy), a conman and identity forger; Yusuf (Dileep Rao), a chemist who concocts the powerful sedative for a stable dream within a dream strategy; Ariadne (Ellen Page), an architecture student tasked with designing the labyrinth of the dream landscapes; and Arthur. Saito accompanies so that he can know whether or not Cobb and his team succeed.
Director: Christopher Nolan
Year of Release: 2010

Character to watch: Leonardo DiCaprio as Mallorie Cobb.
Journal your answers to the following questions after you watch the movie.
How does this particular character's journey compare with yours?
Did the character develop certain characteristics during the movie that you have or that you would like to have? If so, what are those characteristics?
What obstacles did this character face? What was his or her biggest challenge?
What would you have done differently if you had been in the same position as the character?
Is this character the type of person you would be friends with? Why or why not?