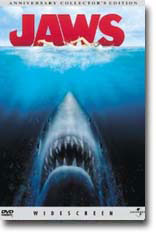 Late one night, on one of the many beaches of Amity Island off the coast of New England, local teenagers throw a bonfire party, tossing back the booze and playing music.Chrissie Watkins (Susan Backlinie), a beautiful blonde, catches the eye of Tom Cassidy (Jonathan Filley) and leads him away from the frivolities towards the water where she begins to strip down. She invites him for some moonlit skinny dipping and dives into the water as Tom struggles to undress on the shore. Inebriated, Tom collapses and passes out on the sand.
Chrissie continues to swim out to deeper waters when she feels a sharp tug on her leg. Confused, she gasps in panic as she is tugged again before being pulled under water. She breaks the surface, screaming as something thrashes her around violently. She screams for help again before submerging one last time and then the water is still.
It's a hot summer on Amity Island, a small community whose main business is its beaches. When new Sheriff Martin Brody (Roy Scheider) discovers the remains of a shark attack victim, his first inclination is to close the beaches to swimmers.
This doesn't sit well with Mayor Larry Vaughn (Murray Hamilton) and several of the local businessmen. Brody backs down to his regret as that weekend a young boy is killed by the predator. The dead boy's mother puts out a bounty on the shark and Amity is soon swamped with amateur hunters and fisherman hoping to cash in on the reward.
A local fisherman with much experience hunting sharks, Quint (Robert Shaw), offers to hunt down the creature for a hefty fee. Soon Quint, Brody and Matt Hooper (Richard Dreyfuss) from the Oceanographic Institute are at sea hunting the Great White shark. As Brody succinctly surmises after their first encounter with the creature, they're going to need a bigger boat.
Director: Steven Spielberg
Year of Release: 1975

Character to watch: Roy Scheider as Brody.
Journal your answers to the following questions after you watch the movie.
How does this particular character's journey compare with yours?
Did the character develop certain characteristics during the movie that you have or that you would like to have? If so, what are those characteristics?
What obstacles did this character face? What was his or her biggest challenge?
What would you have done differently if you had been in the same position as the character?
Is this character the type of person you would be friends with? Why or why not?