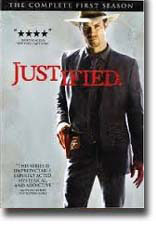 Justified is outstanding thanks to the tightly wound performance of star Timothy Olyphant and solid scripting and direction. Olyphant's Marshal Raylan Givens is a man of few words and deadly aim who is sent back to his hometown of Harlan County, Kentucky, after shooting first and asking questions later with an oily gangster.
Once ensconced in the coal belt, Givens runs afoul of childhood friend Boyd Crowder (Walton Goggins), who's gone from mining to white supremacy and murder. Also competing for Givens's attention are local girl Ava (Joelle Carter), whose crush on the marshal doesn't quite obscure the fact that she's just murdered her husband, and his father,
Arlo (the always-solid character actor Raymond J. Barry), whose criminal career is a millstone around Givens's neck. Justified is most compelling when it focuses on Crowder, who grows more dangerous as the series unfolds; when it sends Givens to pursue less complex criminals like dentist Roland Pike (Alan Ruck) or play hostage negotiator, the results are fine but hew closer to standard TV police drama fare.
What keeps the show out of that particular ditch is Olyphant's performance, as tightly wound as his turn on Deadwood but with a hint of grim humor; he's well supported by the cast, including Nick Searcy as his boss and M.C. Gainey as Crowder's equally hot-wired father. An array of fine directors, including John Dahl, actor Tony Goldwyn, Rod Holcomb, and Jon Avnet, also lends a cinematic quality to the episodes.
Extras include commentary by the cast and crew on four episodes, including the always-wry Olyphant on "Hatless" and executive producer Graham Yost (The Pacific) and director Michael Dinner on "Fire in the Hole." Leonard's influence on the series is explored in a 20-minute feature called "What Would Elmore Do?," which served as a mantra for the production team whenever they found themselves in a creative bind. Short, EPK-style featurettes covering the show's inception, Kentucky locations, and its marshal advisers round out the set.

Character to watch: Timothy Olyphant as Marshal Raylan Givens.
Journal your answers to the following questions after you watch the series.
How does this particular character's journey compare with yours?
Did the character develop certain characteristics during the movie that you have or that you would like to have? If so, what are those characteristics?
What obstacles did this character face? What was his or her biggest challenge?
What would you have done differently if you had been in the same position as the character?
Is this character the type of person you would be friends with? Why or why not?