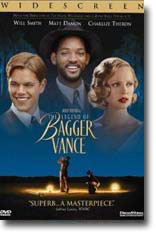 The Legend of Bagger Vance doesn't break any new ground, but with Steven Pressfield's inspirational novel to guide them, director Robert Redford and screenwriter Jeremy Leven have tilled fertile soil with a graceful touch. Redford does for golf what A River Runs Through It did for fly-fishing: the sport is a conduit for a philosophy of living, and Redford achieves the small miracle of making golf a central metaphor that's visually compelling.
Set in Savannah, Georgia, during the early '30s, the story charts the redemption of disillusioned World War I veteran and former golf champion Rannulph Junuh (Matt Damon), who emerges from self-imposed obscurity in an exhibition match against legendary golfers Bobby Jones (Joel Gretsch) and Walter Hagen (Bruce McGill).
Having earlier abandoned the socialite (Charlize Theron) who has organized the tournament to promote her late father's spectacular golf resort, Junuh now depends on the support of a young fan (J. Michael Moncrief) and the mysterious Bagger Vance (Will Smith), a smiling Jiminy Cricket who serves as Junuh's caddy, golf guru, and Socratic angel of mercy.
As Junuh regains the "authentic swing" he feared was lost forever, Redford guides his splendid cast through a spiritual journey that is specific to the discipline of golf and yet potently universal. As always, Redford also conveys his respect for nature and the rhythms of life as well as a sweet nostalgia for simpler times and purer values.
With the casting of Jack Lemmon as the film's present-day narrator and elderly version of Moncrief's character, The Legend of Bagger Vance gains even greater dignity and, indeed, the glowing aura of legend.
This is a drama. Don't watch it looking for action of a lot of laughs, but don't think you won't enjoy it just because it doesn't have tons of humor or action. It deals with very real pain and develops some very strong characters.
The movie is set in the middle of the Great Depression. Junuh is a war veteran and former golfer who at one time possessed a lot of talent, but has now lost his it as well as his faith. Despite this, he has been asked to play in an exhibition match against the two greatest golfers of his day. His caddy is Vance, is his guardian angel and the guide who shows him the way to rid himself of his inner demons, and move on with his life.
Director:  Robert Redford
Year of Release: 2000

Character to watch: Will Smith as Bagger Vance.
Journal your answers to the following questions after you watch the movie.
How does this particular character's journey compare with yours?
Did the character develop certain characteristics during the movie that you have or that you would like to have? If so, what are those characteristics?
What obstacles did this character face? What was his or her biggest challenge?
What would you have done differently if you had been in the same position as the character?
Is this character the type of person you would be friends with? Why or why not?