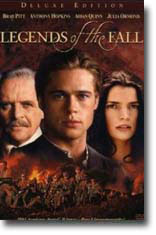 Legends of the Fall was a box-office hit when released in 1994. This sprawling, frequently overwrought familial melodrama gets more complicated as its plot progresses, but it's the kind of lusty, character-based epic that Hollywood is known for.
It's also an unabashedly flattering star vehicle for Brad Pitt as Tristan as the rebellious middle son of a fiercely independent Montana rancher and military veteran (Anthony Hopkins).
Tristan is routinely at odds with his more responsible older brother, Alfred (Aidan Quinn), and younger brother, Samuel (Henry Thomas). From the battlefields of World War I to his adventures as an oceangoing sailor, Tristan's life is full of personal torment, especially when he returns to Montana and finds himself competing with Alfred over Samuel's beautiful widow (Julia Ormond), whose passion for Tristan disrupts the already turbulent Ludlow clan.
Under the wide-open canopy of Big Sky country, this operatic tale unfolds with all the bloodlust, tragedy, and scenery-chewing performances you'd expect to find in a hokey bestselling novel. In fact, the movie is based on the acclaimed novella by Jim Harrison. The film is a potent mix that's highly entertaining. Not surprisingly, John Toll won an Academy Award for his breathtaking outdoor cinematography.
According to the ancient lore of Native Americans, there is a story within each of us; the story of a life often guided by some inner voice, which some hear with great clearness. Some live by what they hear and such people may become mad. Others become legends.
In this manner, it was destined to be for Tristan, who was born at the end of the Nineteenth Century in the wide open spaces of Montana, where his father had taken his family to escape the imperfections of a society ruled by a government he could no longer respect. Legends of the Fall a tragic and poignant story of the life they shared and the wounds they suffered.
Director:  Robert Zwick
Year of Release: 1994

Character to watch: Brad Pitt as Tristan Ludlow.
Journal your answers to the following questions after you watch the movie.
How does this particular character's journey compare with yours?
Did the character develop certain characteristics during the movie that you have or that you would like to have? If so, what are those characteristics?
What obstacles did this character face? What was his or her biggest challenge?
What would you have done differently if you had been in the same position as the character?
Is this character the type of person you would be friends with? Why or why not?