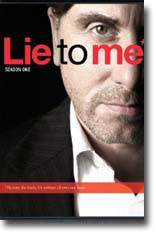 Dr. Cal Lightman (Tim Roth), a deception specialist, believes that "the truth is written on all our faces." Unlike the psychics of Medium and The Mentalist, he reads body language rather than minds or dreams to crack cases, from murders to business matters, for a variety of law enforcement agencies. His team includes Eli Loker (Brendan Hines), Ria Torres (Monica Raymund), and Dr. Gillian Foster (Kelli Williams).Though the show opens with the disclaimer that "the following story is fictional and does not depict any actual person or event," Lightman often looks to real life for reference, so archival images enter into each episode, sometimes resulting n cheap shots at political figures, like Richard Nixon ("I am not a crook"), but their contradictory gestures can be instructive. Overall, Lie to Me manages to feel both familiar and distinctive.
Sleuths who deal better with problems than with people are a television staple, and Lightman is no different (Jennifer Beals plays his district attorney ex-wife). He also condescends to those he considers intellectually inferior or overly instinctive–like Torres–but Roth makes him sufficiently sympathetic.
The stories, however, offer more surprises, since they cover the gamut from depressed pilots to gambling addicts. During these 13 episodes, Torres falls for a secret service agent, Foster experiences a personal setback, Loker experiences a professional one, and Ben Reynolds (Mekhi Phifer) becomes a liaison between the Lightman Group and the FBI.
Lie to Me defies so many trends and presents a fascinating show with no guns, no explosions, car chases or tiring cops/robbers drama, and delves into captivating psychology and stories loaded with twists and turns. You can't look away from actor Tim Roth who dominates every scene.

Character to watch: Tim Roth as Cal Lightman.
Journal your answers to the following questions after you watch the series.
How does this particular character's journey compare with yours?
Did the character develop certain characteristics during the movie that you have or that you would like to have? If so, what are those characteristics?
What obstacles did this character face? What was his or her biggest challenge?
What would you have done differently if you had been in the same position as the character?
Is this character the type of person you would be friends with? Why or why not?