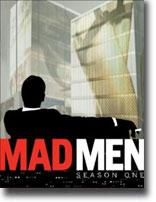 Welcome to a world where Monday has a three drink minimum.  Mad Men exists here and it's a fabulous place to visit, back before Betty Friedan's Feminine Mystique really made much of an impact and before the Surgeon General put warning labels on cigarettes.
It was an America on the brink of social explosion and Mad Men, which tells the story of a group of Madison Avenue advertising executives in the early 1960s, captures that surface stillness perfectly, complete with the growing tension barely contained below the surface.
The show succeeds on every level. HBO famously passed on Mad Men, created by former Sopranos executive producer and writer Matthew Weiner.  AMC picked it up, and thank goodness they did. From the first episode, Season One becomes an essential, utterly addictive television- watching experience.Beautifully filmed and masterfully written, the show manages to present the period honestly but with little nostalgia, and as soon as you get over the constant smoking, drinking and treatment of women as little more than "girls" who get coffee and answer the phone, the complexity of these characters (especially the dashing Jon Hamm as Creative Director Don Draper) will leave you completely captivated.
Season One features clandestine office romances, shadowy pasts, a ton of adultery, closeted homosexuality and a lot more drama that seems risqué even for 2008. But again, one of the most impressive things about Mad Men is that everything is executed with absolute class, style and elegance.  And bonus for the DVD viewer: Like The Sopranos, Mad Men has a ton of little moments and hints leading up to character revelations and plot twists that make watching the episodes over and over continually rewarding.

Character to watch: Jon Hamm as Don Draper.
Journal your answers to the following questions after you watch the series.
How does this particular character's journey compare with yours?
Did the character develop certain characteristics during the movie that you have or that you would like to have? If so, what are those characteristics?
What obstacles did this character face? What was his or her biggest challenge?
What would you have done differently if you had been in the same position as the character?
Is this character the type of person you would be friends with? Why or why not?