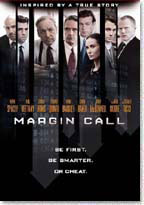 Junior risk analyst Seth Bregman (Penn Badgley), his more senior colleague Peter Sullivan (Zachary Quinto), and trading desk head Will Emerson (Paul Bettany) watch as a contracted temporary human resources team, hired by their firm, conducts an unannounced mass layoff action, right on their trading floor, at the start of an otherwise normal business day.
One of the fired employees is Peter and Seth's boss, Eric Dale (Stanley Tucci), who heads risk management on the floor. In his exit interview, Dale attempts to tell his now former employer that the firm should look into what he has been working on.
The contracted human resources staff have no interest other than his quickly leaving the building. While Dale is being escorted out, he gives Peter a USB memory stick with a project he had been working on, telling him to "be careful" just as he boards the elevator.
That night, Sullivan finishes Dale's project and discovers that current volatility in the firm's portfolio of mortgage backed securities will soon exceed the historical volatility levels of the positions. Because of excessive leverage, if the firm's assets in mortgage-backed securities decrease by 25%, the firm will suffer a loss greater than its market capitalization. He also discovers that, given the normal length of time that the firm holds such securities, this loss must occur. So Sullivan alerts Emerson, who calls floor head Sam Rogers (Kevin Spacey).
If you've never been a manager in a serious company, it might not appeal to you. As an ex-software company exec, I can say it felt real to me. I found the story exciting, because I could relate to the characters and their understated pain. Many things are shown, rather than stated. For example, they work all night long in their suits, but no one ever talks about going home, or the hours, etc. If you've been in a management crisis and experienced a long hellish night, you'll feel this movie in your bones.
The best part was the placement of the viewer in the shoes of the company execs. Imagine your place of work for 20 or 30 years going down in flames around you. If you are a teacher, imagine the school is going to close at the end of the week forever if you make the wrong choice tonight. Every kid in your school will never be educated if you fail. The only way to possibly save yourself and your students is to lie your ass off. That is not a fun place to be, and that's the tension behind the film.
Director: J. C. Chandor
Year of Release: 2011

Character to watch: Kevin Spacey as Sam Rogers.
Journal your answers to the following questions after you watch the movie.
How does this particular character's journey compare with yours?
Did the character develop certain characteristics during the movie that you have or that you would like to have? If so, what are those characteristics?
What obstacles did this character face? What was his or her biggest challenge?
What would you have done differently if you had been in the same position as the character?
Is this character the type of person you would be friends with? Why or why not?