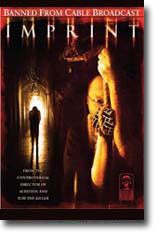 In the Nineteenth Century, in Japan, the American journalist Christopher is traveling through the country searching Komomo, the missing love of his life that he had abandoned years ago promising to come back to her later. He arrives in a shadowy island inhabited by whores and caftans, where he has an encounter with a deformed prostitute that tells that his beloved Komomo had passed away.
He drinks sake with her and later he asks the woman to tell the story of her life. The prostitute discloses a dark and cruel story about her life and the sad fate of Komomo "Have I got your attention, mister?" By the time you reach this line in Takashi Miike's Imprint, the answer will be a resounding, horrified "Yes!"
This much-rumored-about episode of Showtime's Masters of Horror series became notorious as the first installment to be denied an airing. Now that the hour-long episode is out on DVD, it's not difficult to see why the network balked (although on the other hand, if you have a series called Masters of Horror and you hire the outrageous Takashi Miike to helm a show, nobody should really be surprised).
The story follows an American (Billy Drago) on a journey to a ghostly island bordello in Japan; he's searching for a girl he lost years before. The prostitute he meets has stories to tell–and they abound in incest, abortion, murder, and one of the grisliest torture scenes ever produced for a mainstream outlet.
Anybody familiar with Miike's films (Audition, Visitor Q) knows a couple of things about him: (1) there is no affront against civilized behavior he won't put on film, and (2) he's a heckuva filmmaker. Imprint confirms this, on both counts. The only weak spot is the English dialogue reading by the Japanese cast–and by Billy Drago, for that matter, although he does look very cool.
The story may or may not make sense, but what stays with you are the pregnant, eye-filling images (cinematography by Toyomichi Kurita) and the truly shocking violence. It is really what the Masters of Horror series seems designed to do: give a director complete freedom to merge style with story. Take this to heart, oh ye of low nausea thresholds: Imprint will seriously mess you up.
This film was part of Masters of Horror, a television series that was an informal social group of international film writers and directors specializing in horror movies and an American television series created by director Mick Garris for the Showtime cable network. The rirst episode aired October 28, 2005 and the final episode aired February 2, 2007.
Director: Takashi Miike
Year of Release: 2006

Character to watch: Billy Drago as Christopher.
Journal your answers to the following questions after you watch the movie.
How does this particular character's journey compare with yours?
Did the character develop certain characteristics during the movie that you have or that you would like to have? If so, what are those characteristics?
What obstacles did this character face? What was his or her biggest challenge?
What would you have done differently if you had been in the same position as the character?
Is this character the type of person you would be friends with? Why or why not?