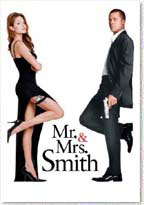 The film opens with John (Brad Pitt) and Jane Smith (Angelina Jolie) answering questions during marriage counseling. The couple has been married for "five or six" years, but their marriage is suffering to the point that they cannot remember the last time they had sex.
They tell the story of their first meeting in Bogotá, Colombia, where they met while both were secretly on the run from Colombian authorities; since the authorities were looking for tourists traveling alone after a recent heist, the two claimed to be together to avoid being questioned.
They quickly fell in love and married. John later states that Jane "looked like Christmas morning" to him on the day they met. In reality, John and Jane are both skilled assassins working for different firms, both among the best in their field. Each is concealing their true profession from their spouse.
On the surface, John and Jane Smith's mundane marriage is indistinguishable from that of Mr. and Mrs. Everyman in Suburbia, USA. Emotional distance has led the couple to counseling to reinvigorate their stale six-year-old union—a partnership languishing in the day-to-day doldrums. Or so they think.
Though their initial meeting at a bar in revolution-torn Bogotá, Colombia, should have given them a clue, neither knows what lurks under the workaday facade of the other: a deadly assassin.
But when both hit men (or is it hit people?) are assigned to the same target, their tepid marriage heats up—explosively. The expert killers' differing approaches (his: brash, seat-of-the-pants; hers: meticulous, clinical) cancel one another out and botch the job, revealing their secret identities in the process. Their respective employers deal with this "security problem" by giving the husband and wife assassins 48 hours to kill each other.
Director: Doug Liman
Year of Release: 2005

Character to watch: Angelina Jolie as Mrs. Smith.
Journal your answers to the following questions after you watch the movie.
How does this particular character's journey compare with yours?
Did the character develop certain characteristics during the movie that you have or that you would like to have? If so, what are those characteristics?
What obstacles did this character face? What was his or her biggest challenge?
What would you have done differently if you had been in the same position as the character?
Is this character the type of person you would be friends with? Why or why not?