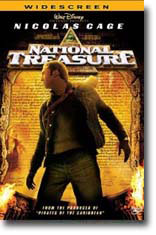 Like a Hardy Boys mystery on steroids, National Treasure offers popcorn thrills and enough boyish charm to overcome its rampant silliness. It's highly entertaining and Nicolas Cage proves once again that his infectious enthusiasm can compensate for a multitude of movie sins.
The contrived plot involves Cage's present-day quest for the ancient treasure of the Knights Templar, kept secret through the ages by Freemasons past and present. Finding the treasure requires the theft of the Declaration of Independence because there are crucial treasure clues on the back.
Ever since he was a boy, Gates (Cage) has been obsessed with finding the legendary Knights Templar Treasure, the greatest fortune known to man. As Gates tries to find and decipher ancient riddles that will lead him to it, he's dogged by a ruthless enemy (Sean Bean) who wants the riches for himself. Now in a race against time, Gates must steal one of America's most sacred and guarded documents or let it, and a key clue to the mystery, fall into dangerous hands. Heart-pounding chases, close calls, and the FBI turn Gates's quest into a high-stakes crime caper and the most exciting treasure hunt you've ever experienced.
Gates is the latest in a long line of treasure hunters, including his father (Jon Voight). The Gates family has been searching for a treasure hidden by the founders of the United States since the last founder told one of them the first clue many years ago. The setting the story around so much American history certainly is a favorite with US history buffs.
This movie received horrible review when it first came out. Well, don't let this fool you. This movie is excellent. It proves that you don't need gratuitous violence, language and sex to make a movie exciting with adventure and action. Kudos to Walt Disney for bringing us an excellent movie that you can take your kids to see.
Director: Jon Turteltaub
Year of Release: 2004

Character to watch: Nicolas Cage as Benjamin Franklin Gates.
Journal your answers to the following questions after you watch the movie.
How does this particular character's journey compare with yours?
Did the character develop certain characteristics during the movie that you have or that you would like to have? If so, what are those characteristics?
What obstacles did this character face? What was his or her biggest challenge?
What would you have done differently if you had been in the same position as the character?
Is this character the type of person you would be friends with? Why or why not?