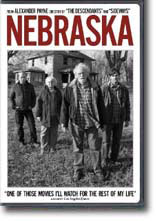 Aging and on the cusp of dementia, Woody Grant (Bruce Dern) believes he has won a million dollars. He's received one of the Publisher's Clearing House promotions and is determined to get from his home in Billings to Lincoln in order to collect his winnings. His cranky wife, Kate (June Squibb) won't take him so he makes a couple failed attempts at walking. His youngest son David (Will Forte) finally agrees to take him, just to keep him from wondering off on his own.
Along the way, Woody falls in his motel room which requires a trip to the local ER. Woody's mobility is not only impacted by his age but by the fact he sneaks in a drink whenever he can.
David convinces Woody to stay with his brother Ray over the weekend in a small withering town in Nebraska. This is where Woody grew up. Word leaks out that Woody has won a million dollars and everyone in town assumes it is the lottery. Many of Woody's old friends get quickly reacquainted especially his former partner played by Stacy Keach.
Then of course, the nephews, and assorted in-laws all want a small piece of Woody's "fortune." Kate and Ross, the older son (Bob Odenkirk), join the reunion and help David keep things in check. This is where Ms. Squibb really shines. Cantankerous as she is, she loves her husband and wants to protect him.
Director: Alexander Payne
Year of Release: 2013

Character to watch: Bruce Dern as Woody Grant.
Journal your answers to the following questions after you watch the movie.
How does this particular character's journey compare with yours?
Did the character develop certain characteristics during the movie that you have or that you would like to have? If so, what are those characteristics?
What obstacles did this character face? What was his or her biggest challenge?
What would you have done differently if you had been in the same position as the character?
Is this character the type of person you would be friends with? Why or why not?