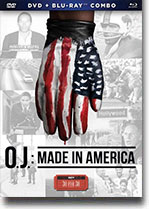 ESPN 30 for 30 O.J.:Made in America is a very different show from FX's American Crime Story which just played a short while ago. That was a very well done step by step rendition of his trial for the murder of his ex-wife, Nicole Brown Simpson. This, by contrast, is a documentary about every facet of O.J. There was a lot of footage shot of him at every phase of his life so there is no shortage of moving images of him. But added into this are all the "witnesses" of his entire life who were there at various points along the way.
We go through his entire time as a football star at USC. It was a huge event for USC to have this big a football star who took them to football glory. He was a hero to virtually everyone on that campus. It is a school which takes its football very seriously. It is clear from this very early point that he does not identify with being a black man. He wants to be a super star and not regarded as black at all. What helps him enormously is that he has a very charming and engaging manner to everyone. He draws people like a magnet.
His next step up is to the Buffalo Bills football team. It is a career which almost came unraveled when he was put into the wrong position. Fortunately, that coach was fired and the new coach knew how to better use him. He's not thrilled about being located in Buffalo in the snow but OJ is willing to do whatever it takes to meet his goals.
It is while he is finishing up with the Bills that he makes the Hertz commercial. This documentary gives us everything on the making of the Hertz commercial with OJ. This is important because it shows multiple facets of his character. In order to make the commercial work, the crew had to get rid of every other black person in the footage and use white people everywhere. That way the audience focused on "this was OJ, not a black man." This was fine with him. He said constantly that the black civil rights and empowerment movement was not his thing.
At every step, the people who worked with him along the way give us their accounts of him. Again, he was so well photographed that when we get to his meeting Nicole, there are lots of pictures of each of them individually and together at the restaurant where she worked and he saw her for the first time.
I do not watch football. I never have and generally do not care for team sports. This is produced by ESPN. This is the one and only time I have ever seen an ESPN show. I am the least sports oriented person one could meet. Nevertheless, even I found all of the football material about him fascinating.
This is probably the best media production on OJ which has been done. It is a fully fleshed out portrait and it is impossible to imagine anyone not being interested in it.

Director: Ezra Edelman
Year of Release: 2016
Character to watch: O.J. Simpson as himself.
Journal your answers to the following questions after you watch the movie.
How does this particular character's journey compare with yours?
Did the character develop certain characteristics during the movie that you have or that you would like to have? If so, what are those characteristics?
What obstacles did this character face? What was his or her biggest challenge?
What would you have done differently if you had been in the same position as the character?
Is this character the type of person you would be friends with? Why or why not?