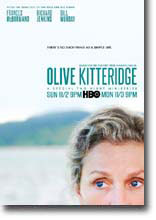 A look at a seemingly placid New England town that is actually wrought with illicit affairs, crime and tragedy, all told through the lens of Olive (Frances McDormand), whose wicked wit and harsh demeanor mask a warm but troubled heart and staunch moral center.
The story spans 25 years and focuses on Olive's relationships with her husband, Henry (Richard Jenkins), the good-hearted and kindly town pharmacist; their son, Christopher (John Gallagher Jr.), who resents his mother's approach to parenting; and other members of their community.McDormand's performance is note-perfect and fearless, insisting on showing every weathered line on her face, every patch of blotchy skin and every moment Olive shrinks from emotional intimacy or connection.
Olive is a woman who has kept the world at bay for decades with a tart attitude, a ferocious focus on her garden and cooking and an insistence on avoiding others. In tonight's hours, we learn how much that approach has cost those closest to her, and we get an unexpected, amazing cameo from Bill Murray besides.

Character to watch: Frances McDormand as Olive Kitteridge.
Journal your answers to the following questions after you watch the movie.
How does this particular character's journey compare with yours?
Did the character develop certain characteristics during the movie that you have or that you would like to have? If so, what are those characteristics?
What obstacles did this character face? What was his or her biggest challenge?
What would you have done differently if you had been in the same position as the character?
Is this character the type of person you would be friends with? Why or why not?