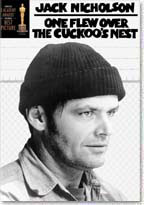 In 1963 Oregon, Randle Patrick "Mac" McMurphy (Jack Nicholson), a recidivist anti-authoritarian criminal serving a short sentence on a prison farm for statutory rape of a 15-year-old girl, is transferred to a mental institution for evaluation. Although he does not show any overt signs of mental illness, he hopes to avoid hard labor and serve the rest of his sentence in a more relaxed hospital environment.
McMurphy's ward is run by steely, unyielding Nurse Mildred Ratched (Louise Fletcher), who employs subtle humiliation, unpleasant medical treatments and a mind-numbing daily routine to suppress the patients. McMurphy finds that they are more fearful of Ratched than they are focused on becoming functional in the outside world.
McMurphy establishes himself immediately as the leader; his fellow patients include Billy Bibbit (Brad Dourif), a nervous, stuttering young man; Charlie Cheswick (Sydney Lassick), a man disposed to childish fits of temper; Martini (Danny DeVito), who is delusional; Dale Harding (William Redfield), a high-strung, well-educated paranoid; Max Taber (Christopher Lloyd), who is belligerent and profane; Jim Sefelt (William Duell), who is epileptic; and "Chief" Bromden (Will Sampson), a silent American Indian believed to be deaf and mute.
McMurphy's and Ratched's battle of wills escalates rapidly. When McMurphy's card games win away everyone's cigarettes, Ratched confiscates the cigarettes and rations them out. McMurphy calls for votes on ward policy changes to challenge her.
The movie carries with it symbolism through color, sounds, and images and the casting could not have been more proper. Jack Nicholson is cast in the lead role as Randle Patrick McMurphy, a ne'er-do-well who goes into a mental institution to finish off his jail sentence.
He figures it will be more slack than the work farm. His nemesis is Nurse Ratched, cast and played extraordinarily by Louise Fletcher. The movie does well in incorporating feelings and colors that surround the viewer with the mental institution's atmosphere. And the sounds and images put forth by director Milos Forman add to that ambiance.
Director: Miloš Forman
Year of Release: 1975

Character to watch: Jack Nicholson as Randle McMurphy.
Journal your answers to the following questions after you watch the movie.
How does this particular character's journey compare with yours?
Did the character develop certain characteristics during the movie that you have or that you would like to have? If so, what are those characteristics?
What obstacles did this character face? What was his or her biggest challenge?
What would you have done differently if you had been in the same position as the character?
Is this character the type of person you would be friends with? Why or why not?