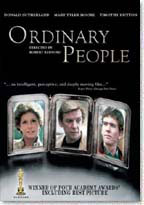 The Jarretts are an upper-middle-class family in the northern suburbs of Chicago trying to return to normal life after the accidental death of one teenage son and the attempted suicide of their surviving son Conrad (Timothy Hutton). Conrad has recently returned home from a stay in a psychiatric hospital.
Feeling alienated from his friends and family, he begins seeing a psychiatrist, Dr. Berger (Judd Hirsch) who he begins to trust. Berger learns that Conrad was involved in a sailing accident in which his older brother, Buck, whom his parents idolized, died. Conrad is struggling with post-traumatic stress disorder and survivor's guilt.
Conrad's father Calvin (Donald Sutherland) attempts to reconnect with his surviving son as well as his wife. Conrad's mother Beth (Mary Tyler Moore) denies her grief, trying to maintain her composure and restore her family to what it once was. She appears to have cared for her elder son more and has grown cold toward Conrad. She works hard to maintain the appearance of perfection and normality.
Conrad works in therapy with Dr. Berger to try to deal with his emotions surrounding his brother's death as well as his relationship with his mother. Conrad reaches out to a fellow student, Jeannine (Elizabeth McGovern) who helps him to begin to regain a sense of optimism. He still struggles to communicate and re-establish a normal relationship with his parents and schoolmates. He cannot allow anyone to get close to him, especially his mother.
The subtle masterpiece and Academy Award winner for best picture of 1980, "Ordinary People", is a heartbreaking, character driven tale that evolves around the lives of an upper class, suburban family in Chicago. The troubled son, Conrad Jared (played by Timothy Hutton), must make an awkward and difficult transition into high school and home life after months in a mental hospital for attempted suicide, greatly due to the loss of his older brother.
He is still haunted by his past and desperately longs for a connection with his distant and broken mother, Beth (played by Mary Tyler Moore), as well as a sense of belonging and normalcy, which he searches for during his weekly interactions with his psychiatrist (played by Judd Hirsch), who slowly unlocks the boy's inner pain and mysteries. The concerned father, Calvin (played by Donald Sutherland) tries frantically to assure his son and piece the family back together; however the emotional struggles the family must endure brings out each member's true colors and weaknesses, including the fathers.
Director: Robert Redford
Year of Release: 1980

Character to watch:
Journal your answers to the following questions after you watch the movie.
How does this particular character's journey compare with yours?
Did the character develop certain characteristics during the movie that you have or that you would like to have? If so, what are those characteristics?
What obstacles did this character face? What was his or her biggest challenge?
What would you have done differently if you had been in the same position as the character?
Is this character the type of person you would be friends with? Why or why not?